This post contains affiliate links. If you click a link and make a purchase, we will make a commission. Thank you.
There's nothing better than a family dinner! Except maybe putting it on social media and adding one of these 58+ Family Dinner Captions and Quotes for Instagram.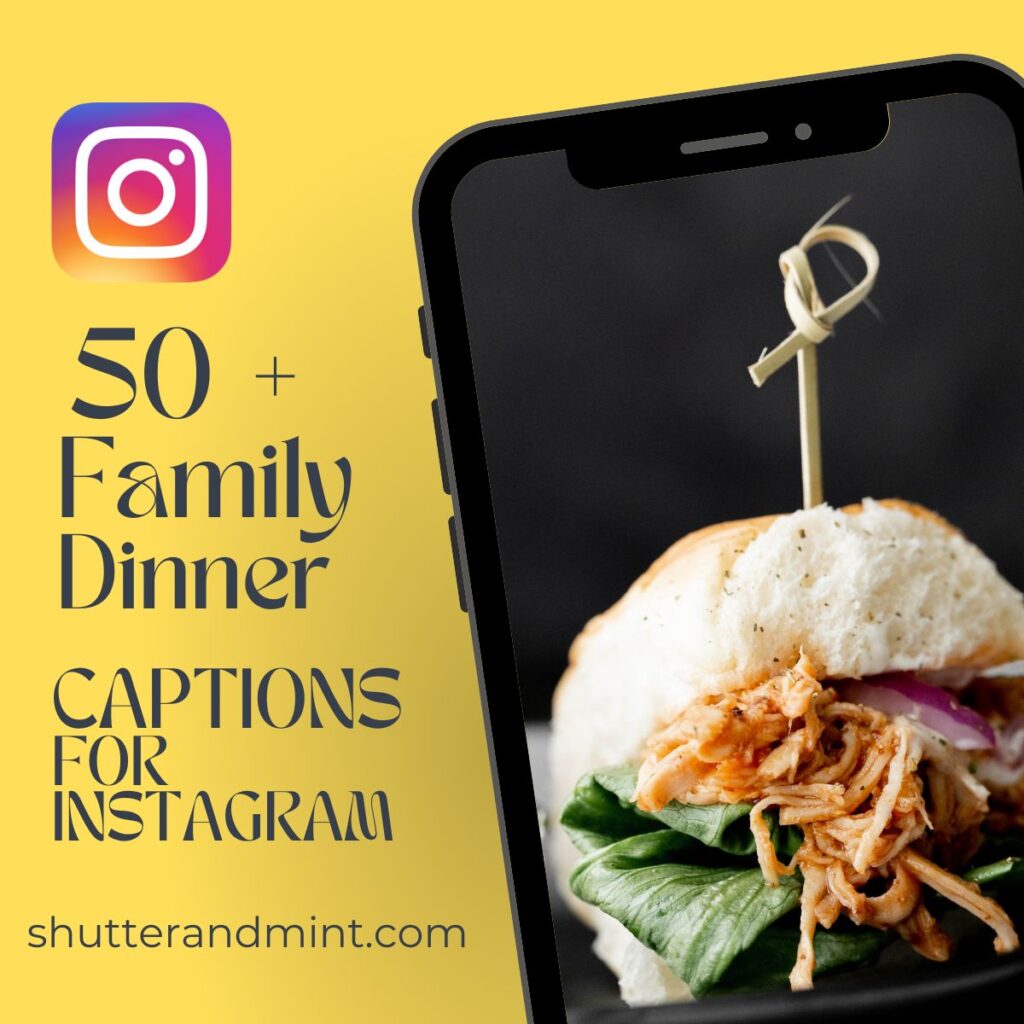 Whether you're at home, a restaurant, or an outdoor BBQ, there's a caption for your photo. It's fun to post photos online with cute captions, not only will you remember the moment for years but you can share it with extended family and friends that may not be present.
Sometimes family dinners can be fun, and sometimes maybe you'd rather not, but in any case it's important to share dinners together. Not only will you be closer and bond, but you'll have great memories of the occasion.

Let's get to the captions, choose the category below that will best fit your photo and choose from those quotes:
Jump to:
TIPS FOR TAKING A BETTER PHOTO FOR YOUR INSTAGRAM
Canva - I love Canva and use it to resize photos, make pinterest pins, and edit my photos. It's definitely worth the investment.
IPhone or Android MACRO LENS - Game changer!! If you've ever wondered how bloggers get those big, 1:1 ratio photos of their food, this is the secret.
Bessie Bakes Surfaces - I'd recommend getting two, and if you're not a skilled photographer, I'd go with a neutral color (not white) because this makes editing a little bit easier if you're a beginner.
South facing window - Heads up, it might be in your bathroom or something. I'm lucky that mine is toward the front of my house right off the kitchen. I like to stand parallel to the window with my food in between and take the photo at a 45 degree angle. This gives the food a nice, sparkle effect.
QUOTES ABOUT FAMILY DINNERS 
1. "The fondest memories are made when gathered around the table."
2. "In family life, love is the oil that eases friction, the cement that binds closer together, and the music that brings harmony." - Friedrich Nietzsche
3. "A family that eats together, stays together."
4. "The love of family is life's greatest blessing."
5. "Family is not an important thing. It's everything." - Michael J. Fox
6. "The table is a meeting place, a gathering ground, the source of sustenance and nourishment, festivity, safety, and satisfaction. A person cooking is a person giving: Even the simplest food is a gift." - Laurie Colwin
7. "Family dinners are more than just an opportunity to eat; they are an opportunity to reconnect and strengthen the bonds of love."
8. "There is no doubt that it is around the family and the dinner table that we find the deepest and most meaningful connections to others."
9. "Family dinners are the heartbeat of the household."
10. "The family is one of nature's masterpieces." - George Santayana
FAMILY DINNERS AT HOME
1. "Home is where the family gathers, and dinner is the heart of that gathering."
2. "The magic of family dinners lies in the comfort and warmth of home."
3. "Family dinners at home are not just about the food; they are about the love and togetherness shared within those walls."
4. "The joy of a family dinner at home is in the laughter, the conversations, and the feeling of belonging."
5. "There's something special about the aroma of home-cooked food filling the house during a family dinner."
6. "Family dinners at home nourish both the body and the soul."
7. "Home is where the love of family and the pleasure of good food come together."
8. "The best memories are made around the dinner table at home, with the ones we hold dear."
9. "Family dinners at home create a sense of security, love, and connection that can't be found anywhere else."
10. "Home is where the heart is, and family dinner is where the heart finds its nourishment."
FAMILY DINNERS AT A RESTAURANT
1. "Eating together at a restaurant allows the family to savor not only the food but also the shared experience of being served and cared for." - Michael Pollan
2. "A family dinner at a restaurant is an opportunity to explore new flavors and create lasting memories together."
3. "Dining out with family brings a sense of adventure and togetherness that cannot be replicated at home."
4. "A family dinner at a restaurant is a chance to enjoy delicious food without the distractions of cooking and cleaning."
5. "Eating out as a family allows us to appreciate the culinary arts and experience the joy of discovering new dishes together."
6. "A restaurant is a place where family bonds are strengthened over a shared meal, creating moments that will be cherished forever."
7. "Dining at a restaurant with family is an opportunity to indulge in good food and great conversations, making memories that will last a lifetime."
8. "Sharing a meal at a restaurant with loved ones reminds us of the importance of quality time and the value of connection."
9. "A family dinner at a restaurant is a chance to escape the routine and create a special occasion filled with laughter and joy."
10. "Eating out with family allows us to appreciate the art of hospitality and enjoy the experience of being taken care of, creating a sense of celebration and unity."
FAMILY BBQ DINNER OUTSIDE
1. "Backyard BBQs are where memories are made, laughter is shared, and friendships are forged."
2. "A backyard BBQ is the perfect recipe for a gathering of joy, good food, and great company."
3. "The smell of the grill, the taste of smoky flavors, and the sound of laughter - that's the essence of a backyard BBQ."
4. "Backyard BBQs are where friends and family come together to savor the deliciousness of life."
5. "A backyard BBQ is a little slice of heaven on earth, where the simple act of cooking over fire brings people closer."
6. "The best conversations happen around a backyard BBQ, where good food and good company go hand in hand."
7. "Backyard BBQs are a celebration of summer, laughter, and the art of slow-cooked perfection."
8. "In the backyard, under the open sky, a BBQ transforms into an experience that nourishes both body and soul."
9. "Backyard BBQs are where the flavors of friendship and the warmth of community blend into a perfect harmony."
10. "A backyard BBQ is not just a meal, it's a symphony of flavors, a dance of laughter, and a celebration of life."
PUNS/FUNNY FAMILY DINNER QUOTES
1. "It's said that the greatest gift in life is family, but there are some gifts that you want to return."
2. "My family loves to 'meat' up for dinner and have a 'grate' time."
3. "Our family dinners are 'pasta-tively' the best!'
4. At family dinners, we always 'relish' the moments together."
5. We may have our 'beef' at times, but we always come together for a family dinner."
6. "Our family dinners are 'soup-er' comforting and 'stew-pendous'."
7. "When it comes to family dinners, we 'donut' mess around with good food."
8.  "Our family dinners are 'egg-citing' affairs, filled with laughter and good conversation."
GENERAL FAMILY DINNER QUOTES
1. "Family: Where life begins and love never ends... but the chaos never takes a break either!"
2. "Having a family is like having a bowling alley installed in your brain." - Martin Mull
3. "Family: the only group of people who can drive you crazy and still be there for you no matter what."
4. "I love my family, but sometimes they make me want to hide in a dark closet with a bag of chocolates."
5. "Family: the ultimate test of your sanity and the greatest source of your laughter."
6. "In a family, everyone has their own unique brand of crazy, and that's what makes it so entertaining."
7. "Family: where jokes are born, sarcasm is the second language, and laughter is the glue that holds it all together."
8. "A family is like a pack of wolves. We annoy each other, play together, and occasionally howl at the moon."
9. "I come from a family where gravy is considered a beverage." - Erma Bombeck
10. "Family: the only group of people who can make you laugh, cry, and go nuts all in one day."
Hopefully these 50+ Family Dinner Captions and Quotes for Instagram help you in your Instagram caption journey!
FAMILY FRIENDLY RECIPES YOU'LL LOVE
Looking for more dinner captions? Try these!
If you need more family dinner captions, check out these 65+ dinner captions!