This post contains affiliate links. If you click a link and make a purchase, we will make a commission. Thank you.
The air fryer is a magical little powerhouse of a kitchen appliance.  If you haven't invested in one yet, let me convince you of the benefits!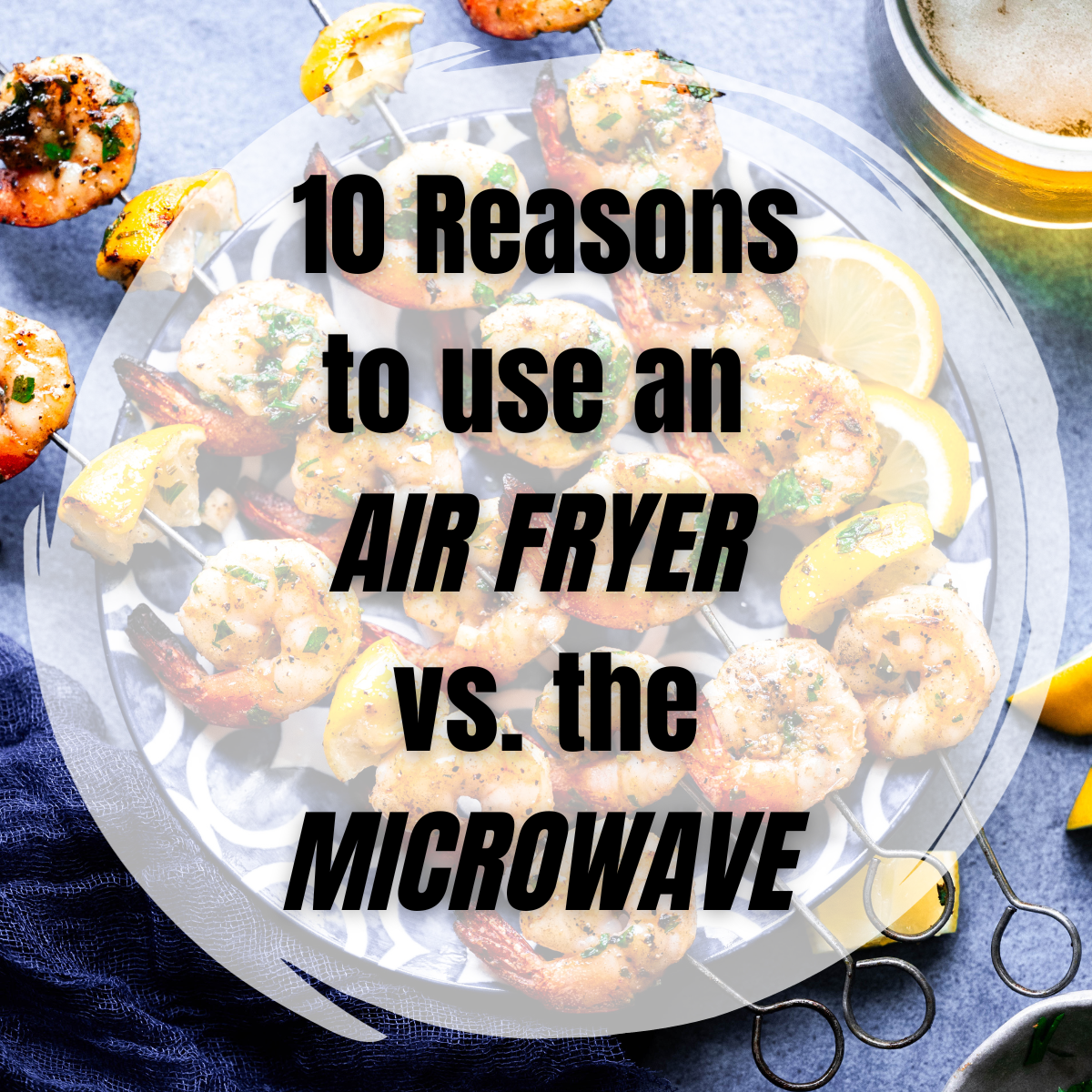 Air fryer recipes
Jump to:
My thoughts on air fryers vs. microwaves
The thing is - I am a bit of a minimalist when it comes to things and especially kitchen appliances.  I don't need to have everything because the reality is that you can do a lot with a little.  And I don't have the space for every new convenience gadget that hits the market.  
You may have a microwave and you may be thinking…isn't an air fryer basically the same thing? Why do I need an air fryer when I have a microwave…?
Let me tell you, you need an air fryer.  And you'll probably start using it way more than you use your microwave.    
I absolutely love my air fryer and use it daily, so I've compiled a list of 10 reasons you should use your air fryer vs the microwave! 
What exactly is an air fryer?
Before we get to the list, let's discuss what an air fryer is.  When they first came out, I thought they were just more exciting-ly packaged microwaves with better marketing.  
However, this isn't the case! Air fryers are powerful little countertop convection ovens. To be more specific--an air fryer is essentially a smaller, more specialized countertop oven.  They cook food faster and at higher temperatures, making them ideal for quickly browning, crisping, air-frying, and cooking foods. 
Air fryers are not like traditional ovens because traditional ovens are better for roasting for long periods of time at lower temperatures, while air fryers are much more time friendly.
How are air fryers different from microwaves? Microwave vs. air fryer
The main difference is that air fryers are unique because they use convection cooking technology to circulate hot air from the heating element. So rather than deep frying or using a conventional oven, this is a better choice when it comes to cooking methods.
Microwaves, which you're likely more familiar with, use electromagnetic waves and radiation to heat food by agitating the water molecules within in. There is some debate about whether or not this is the best choice to cook food over a long time, because overcooking or overheating food in a microwave may (read: likely, but we won't get into the whole microwave debate) causes a loss of nutrients when it comes to microwaved food.
The best air fryers on the market
Some scenarios where you might consider using the air fryer vs a microwave
Scenario #1: It's been a long day and you grab Chick-fil-A on the way home, but it's not very warm and the french fries are cold by the time you get home. You can pop the fries into the air fryer, and in less than 3 minutes of cooking time, you can have fresh-tasting food (without the microwave radiation of it all).

Scenario #2: You want to cook for 2-4 people, it's summertime, and you don't want to use the oven. Depending on the food items (maybe it's chicken, steak, salmon, or sausage and peppers), you can easily cook them in the air fryer in less time, and with way less energy / less power than it would take to heat up the regular oven in your kitchen.

Scenario #3: Heating leftovers in the microwave just isn't ideal. I like to line my air fryer with a little bit of foil, or enclose the leftovers in a foil packet and heat it up for a few minutes at a time until it's warmed through. Not only does it taste as good as new, but sometimes even better.
The 10 reasons
Air fryers are popular and continue to gain popularity for a reason, let's discuss some of the reasons. 
Healthier - the air fryer is a healthier alternative to the microwave. Not only is the air fryer better overall, because you're not actually using a deep fryer or tons of oil to get crispy food, but you just need a little cooking oil and your food comes out perfectly each time.
They're Quick - microwaves are quick, but the air fryer is as well. Depending on what you're cooking (leftovers, or something from scratch), the air fryer works in a pinch and food cooks rather quickly (likely in just a few minutes if you're dealing with leftovers).
Less oil and grease - personal preferences aside, it's undeniable that the air fryer is a healthier way to cook. You just need a little oil, and you're on your way to cooking a variety of crisp foods with this this handy small kitchen appliance.
Versatile Cooking - the air fryer truly is a great addition to your kitchen gadget collection because it's a great way to cook a variety of foods! You can cook chicken and get those great crispy skins, or your can warm up leftover fried chicken and it'll taste as good as new. You simply cannot do this with a microwave. Where the air fryer really shines is in making food taste super fresh.
Energy Efficiency - air fryers are way more energy-efficient than traditional kitchen appliances (this especially applies to conventional ovens), and this includes microwaves in some instances. Air fryers are more energy-efficient when it comes to tasks like baking, roasting, or crisping foods. They use a fan and a heating element to circulate hot air around the food, which cooks it through convection and produces evenly-cooked food. But when it comes to quickly heating liquids, the air fryer vs microwave? the Microwave is a clear winner. You shouldn't try to heat liquids in the air fryer, that's not a good idea at all.
Compact nature - we've discussed the different ways you can use the air fryer, but let's quickly discuss the compact size. Most air fryers are pretty compact, they're no bigger than a toaster oven in most cases. Because of how energy-friendly, and the fact that they're a better option for warming foods than the microwave they can be, I choose to have one. It doesn't have to sit on your counter like a big eye-sore at all times, you can easily stash it in your pantry or on a shelf in your garage when you need it!
Even cooking - this is one of the key differences between the two appliances. The air fryer will give your food a crispy texture, you won't end up with soggy, dried up food as your end result like the microwave. Also note, the air fryer has additional features, you don't have to only "air fry", you can turn the temperature down and use it more like a standard oven. Sometimes I put the ingredients for a mug cake into a ramekin and bake it at 250 degrees Fahrenheit for about ten minutes!
Better tasting - if you're looking to cook large quantities of food, and you don't like batch cooking, the air fryer isn't the gadget for you. But if you're looking for a healthier option to reheating and making small batches of food, the air fryer is one of the best cooking appliances you can possibly invest in! Again, because of its different settings and features, not only will you use less oil in the cooking process, but you can end up with crispy food that tastes like it's freshly made each time. Seriously, the ease of use is something I'm constantly taking about -- anyone can use an air fryer!
Easy clean up - just wipe it with a damp cloth if it's not too messy or you're reheating something in a bowl. Or, if you've cooked something from scratch, like this salmon recipe, then perhaps you should remove the air fryer baskets and removable parts and wash them thoroughly in the sink before putting it back together and storing it on the counter, in the pantry, or somewhere else.
Fun - yes, you read that right, they're fun. They're just more fun because they're so versatile, you can cook an entire dinner, a dessert, or just warm up your takeout! The kitchen should be fun and exciting from time to time, so invest in the air fryer, and have fun using it!
Best of both worlds - the combo
​As mentioned, I love this air fryer.  It's not a combo, it's just an air fryer and I definitely think appliances that try to be everything in one thing aren't generally a good idea.
That said! I like this combo air fryer and microwave.  We're a military family, we move a lot and sometimes space is a real issue.  If you only have the space for one appliance and can't decide if a microwave or an air fryer is more appropriate--this gives you the best of both worlds.  
Let's connect?