This post contains affiliate links. If you click a link and make a purchase, we will make a commission. Thank you.
What's the difference between a cocotte and a dutch oven?
What's the difference between a cocotte and a dutch oven? Well, not a lot, it *boils* down to semantics, really.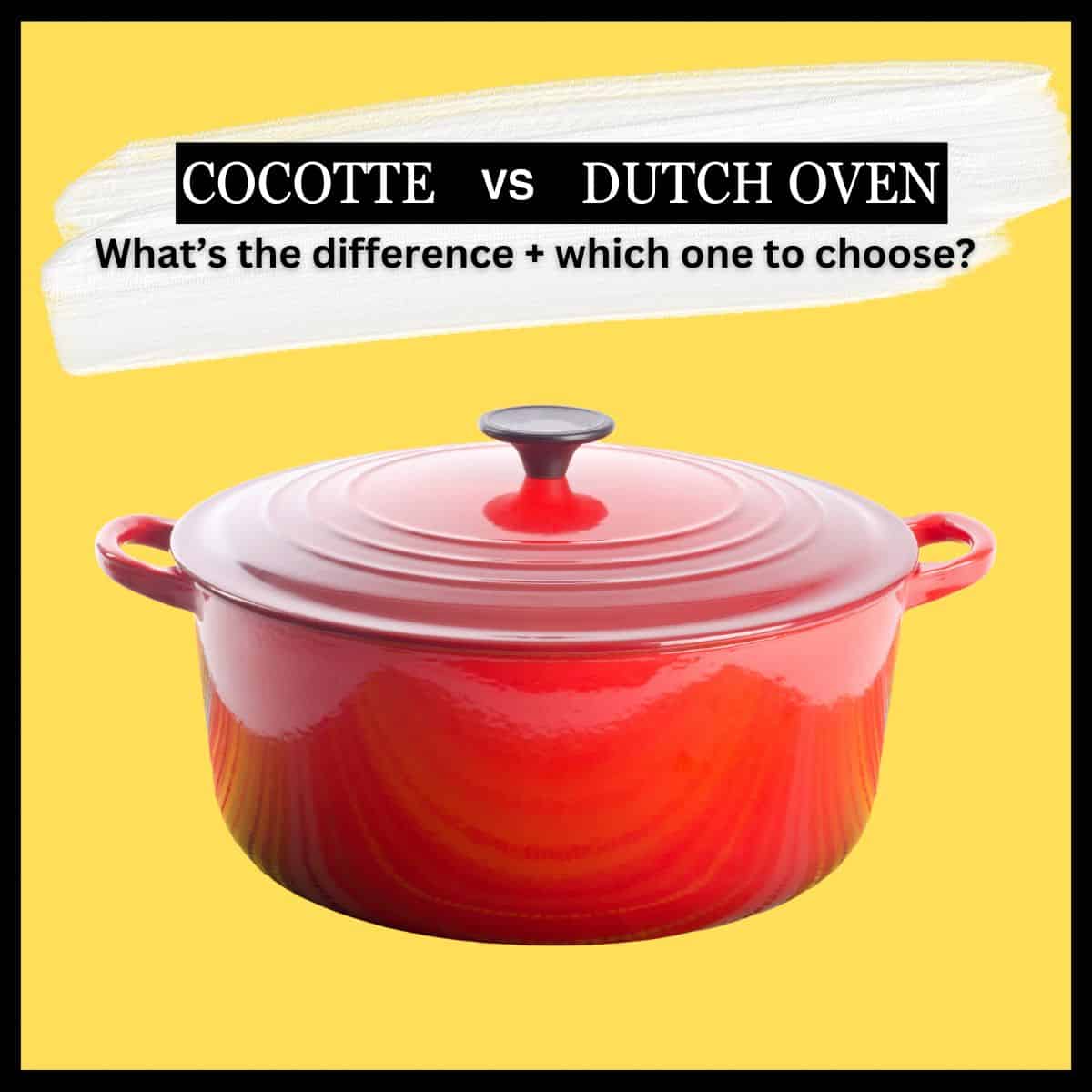 Jump to:
Mostly the difference is origin and tradition: a cocotte is associated with French cookware, and the dutch oven has roots in the Netherlands. Both are heavy-bottomed, cast-iron, (enameled if that's your preference), dutch ovens. A cocotte typically has a flat lid, and a dutch oven has a curved lid.
Dutch ovens and cocottes by brands like Le Creuset and Staub have a long history of high-quality craftsmanship and loyal fans.
That's almost the end of it, you can continue to read on for the pros and cons of both - and my personal thoughts as a professional food photographer and recipe developer.
I'm partial to Staub, so when I talk about cocottes (which is the french word for french oven or dutch oven) and dutch ovens, the classical term as we know them, there are really only some slight differences.
Let's talk about the oval shaped dutch ovens
The most famous dutch oven, ever, is the Le Creuset Oval shaped dutch oven. Le Creuset Dutch Ovens are famous for their variety of colors, light weight, and high quality glossy finish. You cannot go wrong with a Le Creuset. They're meant to be a family heirloom and they look awesome on the table. They handle well, and home cooks and professional chefs alike adore them. They're one of the best dutch oven choices on the market.
Let's talk Staub!
Staub is my true love.
Now that we've discussed Le Creuset, let's talk about Staub! They're both amazing, heritage brands, obviously.
If I haven't mentioned it already (I have) I prefer Staub. I suspect that cooks who prefer the art of cooking love Staub, and those that like to decorate and entertain prefer Le Creuset. There, I said it. I stand by it.
Both brands are superb. This is like arguing whether or not a BMW or a Mercedes performs better --they're both objectively great but I prefer the workhorse in the kitchen and that is STAUB!
It's always been the Staub dutch oven with the tight-fitting lid, the thick, black bottom, the versatility!
I have to catch my breath, I just love Staub. When I have a few hundred dollars laying around, I always go purchase a new piece for my Staub collection. You can often find Staub on sale, either online (like on Amazon), or you can actually find some quality pieces at T.J. Maxx and Homegoods. I'd check one of those spots before paying a ton online!
What to cook in a cocotte?
A cocotte is a kitchen workhorse. With its tight fitting lid, self basting element, and built-to-last craftsmanship, you can be sure that you're going to love a cocotte.
Cocottes, because they keep meat tender and lock in moisture, this simplifies the cooking process and frees you up to make other sides. Pretty much ideal for those with large families and entertainers (and they're always useful around the holidays).
Now, let's discuss what to cook in a cocotte! You can use these to make everyday dutch-oven-style recipes such as these pork chops, or this bbq pulled chicken, or you can roast pot roast and basically anything that you want to cook long, slow, and evenly.
Here are some of my favorite recipes that you'll be able to effortlessly make in a cocotte (or a dutch oven, even a braiser):
What to cook in a dutch oven?
Dutch ovens are more popular than cocottes. The reason for this is because they're better known and advertised, slightly more versatile (as in, they're not quite as heavy).
Again, anything that you can cook in a cocotte you can basically cook in a dutch oven. Dutch ovens are ideal for:
Soups and stews
Thanksgiving turkeys
Roast chicken
Breads
Pulled pork
& so much more, it's a versatile piece of cookware!
A more budget-friendly heirloom piece
Looking for something else? Something that'll get most of the kitchen jobs done but something that won't cost hundreds of dollars?
The Staub 3.5 qt braiser. Hands down! If neither of the pieces mentioned in this article suit your needs, I'd consider this braiser. It's more of an everyday piece of cookware, it's easy to clean, and you can use it for shallow frying and braising if whatever you're cooking doesn't require a ton of liquid.
Conclusion
You can't go wrong with a dutch oven, a cocotte or a braiser (for a more budget-friendly, but just as useful) piece!
Let's connect on Pinterest?
Click this image below and save it for later! Oh, and be sure to follow me on Pinterest, I'm always pinning!