This post contains affiliate links. If you click a link and make a purchase, we will make a commission. Thank you.
The alcohol alternative that gives you a buzz: Hiyo. But make it a Hiyo Margarita!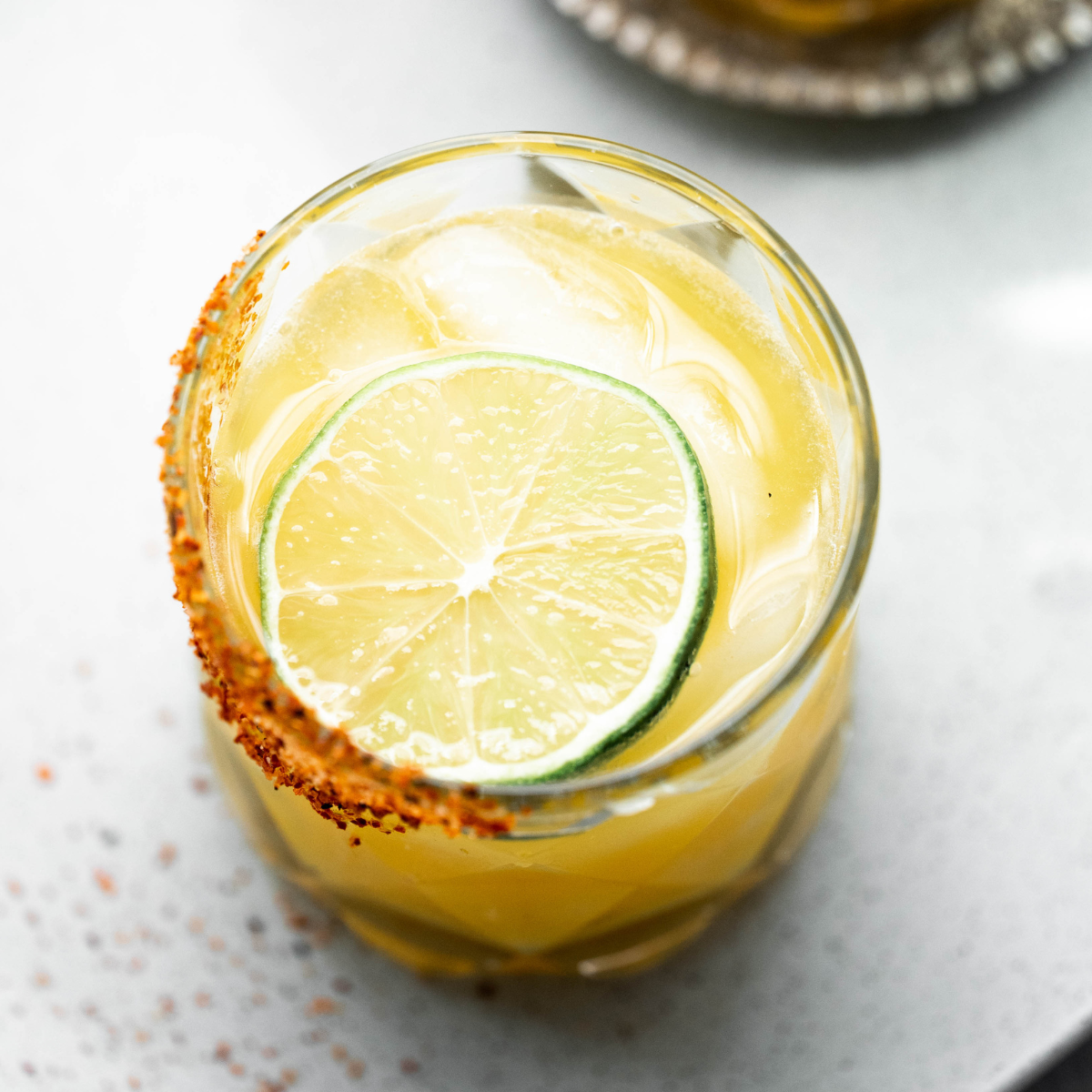 The feeling is somewhere between a cup of herbal tea and a glass of wine! Perfect for daytime, or evening, social situations.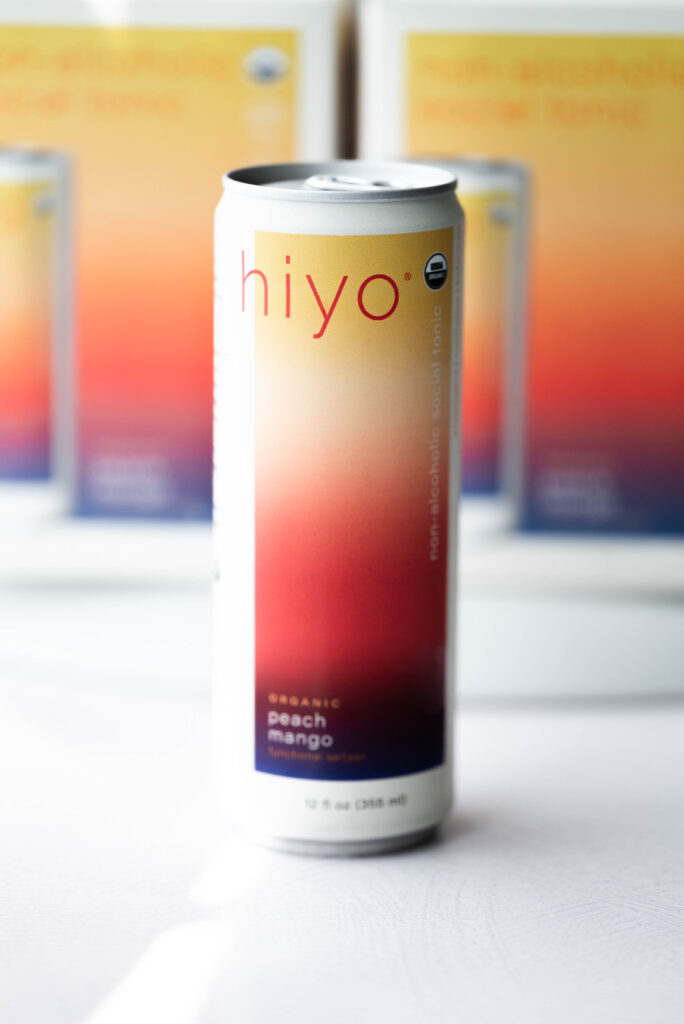 Before I give my thoughts on the Alcohol Alternative That Gives You a Buzz, I want to mention that I'm not a doctor, this isn't health advice. It's also not a sponsored post. I'm making absolutely nothing for this post, and I didn't get the product for free. I'm simply writing it because I love Hiyo and it's one of the best (in my opinion) alcohol free social tonics on the market!
Jump to:
Hiyo Review - my thoughts on the buzzy social tonic
I've been alcohol free for a couple of months and I must say that I'm loving it so far. Cutting back on alcohol is a trend that I love to see–and I'm hoping it's a trend that's here to stay!
Whether you're sober, sober-curious, or just looking to cut back but hate the thought of drinking a boring seltzer and lime, let me tell you that Hiyo is the drink for you.
The feeling Hiyo gives you is reminiscent of a glass of wine, but it won't give you that woozy, loss of control feeling. It's also much stronger than a cup of herbal tea. The feeling is somewhere between a cup of herbal tea and a glass of wine! Perfect for daytime, or evening, social situations.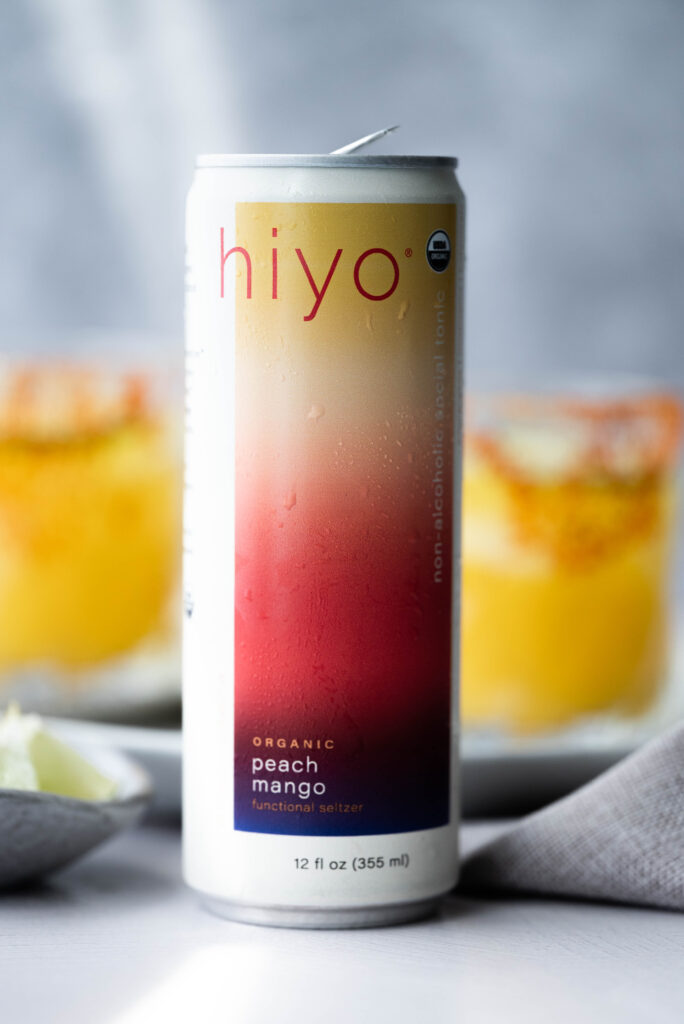 It comes in an attractive, slim can, tastes great, and works as advertised! It's a social tonic that gives you a slight buzz! They call it "the float" and I can see why. After one can I definitely feel an overall sense of relaxation. Much like how you'd feel after one glass of wine.
I haven't tried more than one at a time, one can is more than enough for me in one sitting. Therefore I can't speak to the effects of having more than one can in one sitting, the company says that you'll have an even more "intense" floating sensation. Considering they're spot on in their advertising about one can, I can only assume that more than one would have an even more intense effect.
What causes that "buzzy" "floaty" sensation?
Hiyo is marketed as a mindfully crafted drink full of mood-enchanting, stress-relieving adaptogens, natural nootropics, and functional botanicals. That "buzzy feeling" comes from 15 grams of their functional blend.
They really nailed it, they're not claiming that it works like alcohol, intoxicates you, or feels JUST LIKE booze. Nope, they simply say that it relieves stress, gives you a sense of calmness, and is a great alcohol replacement.
It's not overly sugary, it does give you a relaxed feeling, and it tastes great. I like all of the flavors but the peach-mango is definitely my favorite. Order the variety pack and try them for yourself!
Where can I get Hiyo?
I just ordered mine online right here.
I believe some stores are starting to carry them, but I live in North Carolina and haven't seen them anywhere.
Hopefully health food stores, bars, and restaurants everywhere will start to carry Hiyo. It's a great social tonic and anyone looking to get ahead of the game might want to stock this product (especially in Dry January and during sober October).
Cheers, with Hiyo!

What I love most about this product is that it's not too sugary or intense in the flavor department – it lends itself well to drinking as it is or using it in a creative, alcohol-free cocktail.
Again since I am not drinking at the moment, I am not having traditional margaritas. However, I love margaritas and don't want to go without them when having tacos, or getting together with friends.
Therefore I came up with this great recipe for an alcohol-free margarita (that actually tastes like the real deal!). Nothing crazy needed, just some chili lime seasoning for rimming the glass, fresh lime juice, and fresh (or bottled) orange juice.
You're going to love this recipe! It's nice to have a margarita that looks like the real deal and offers some relaxing, calming effects.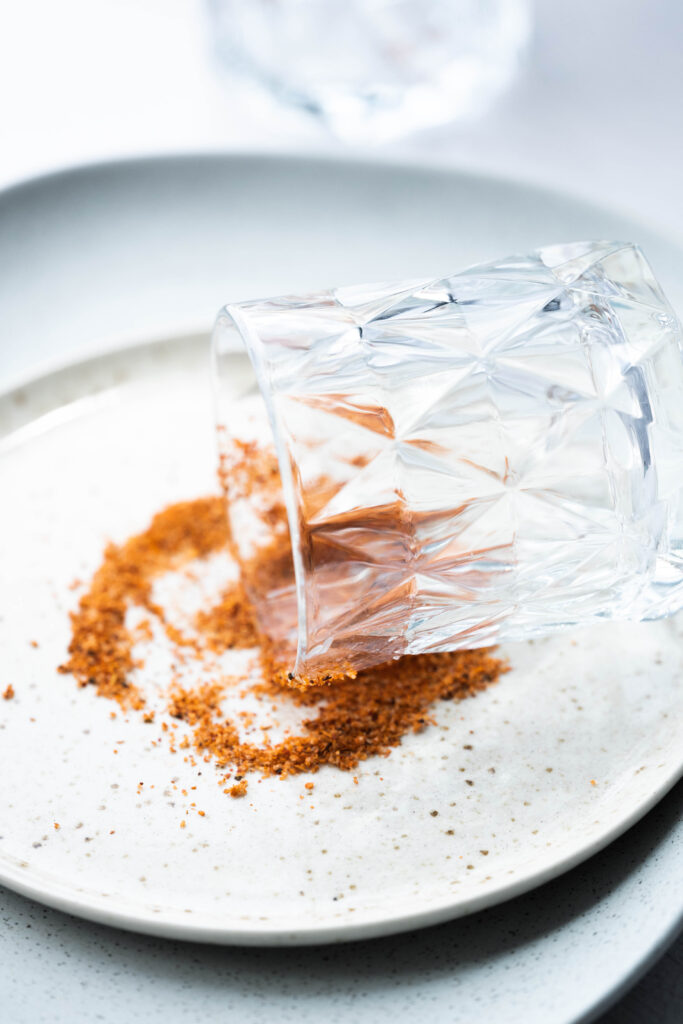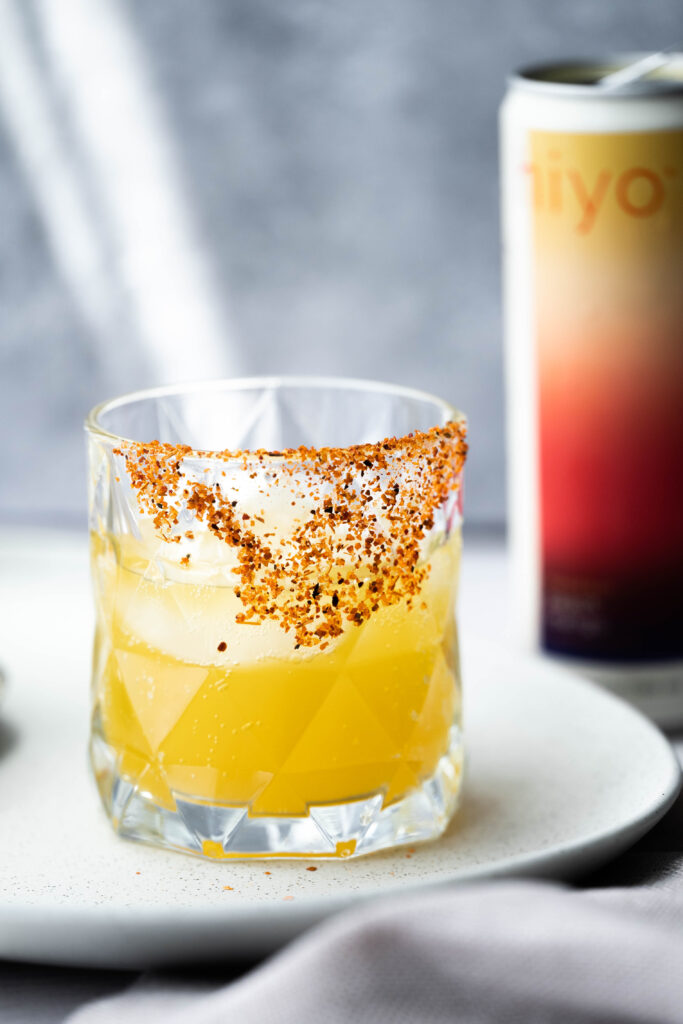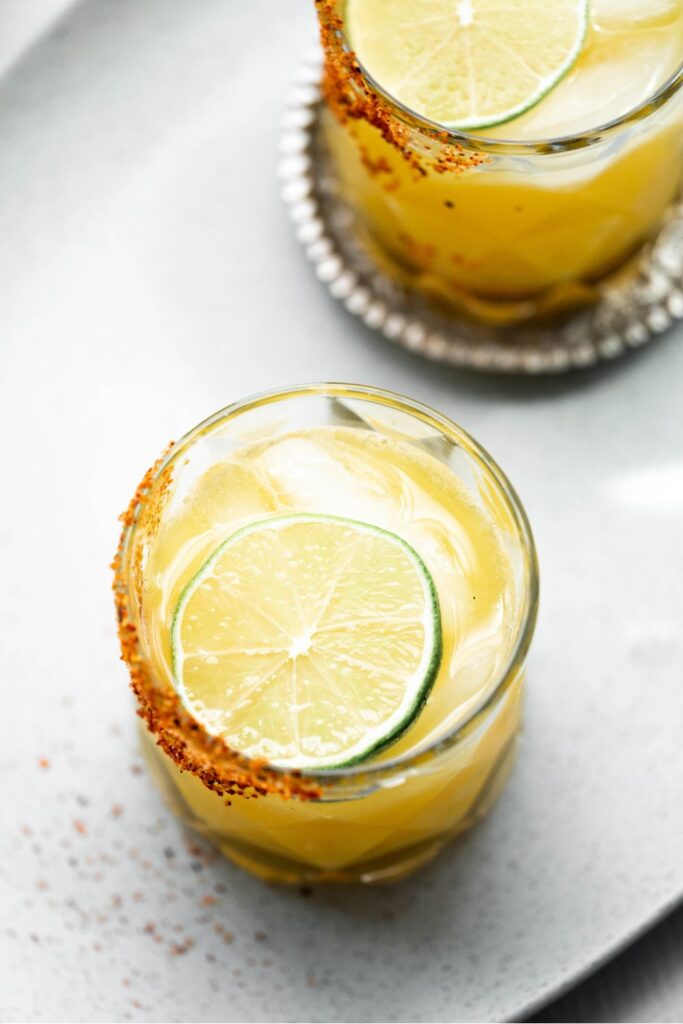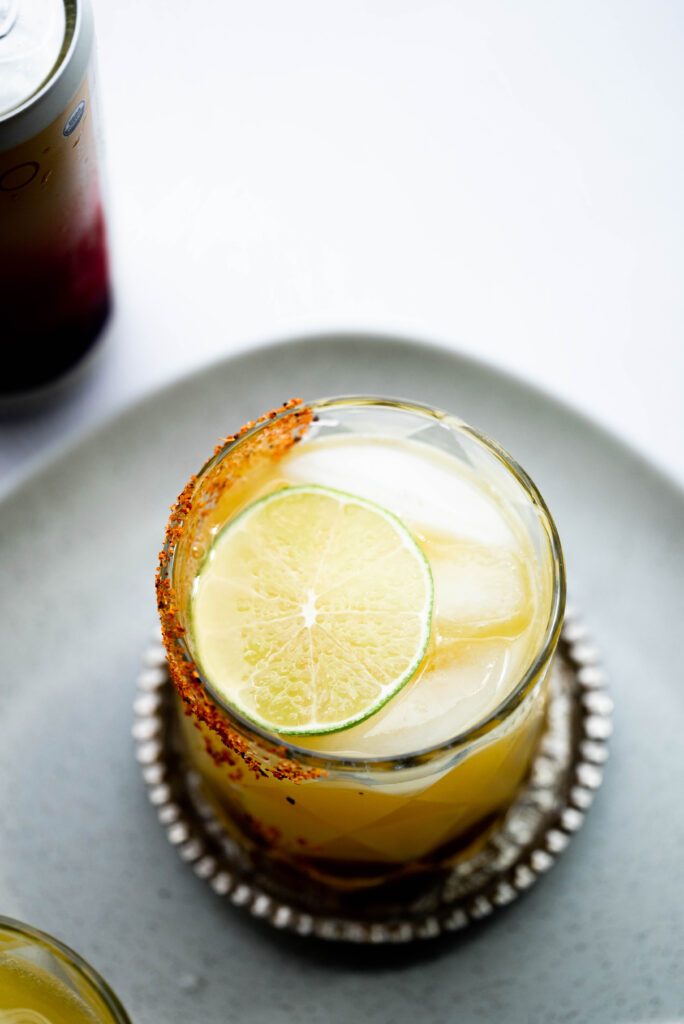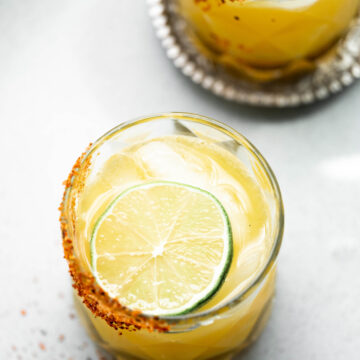 Hiyo Margarita
The Hiyo Margarita is the drink for you if you're sober, sober-curious, or just looking to cut back on the alcohol, you're going to love this drink! It tastes just like the real thing and packs a health punch!
Ingredients
1-2

tbsp

Tajin seasoning

or chili lime seasoning

1

lime wedge

for rimming

1

can Hiyo

4

tbsp

lime juice

juice from about 2 limes

4

tbsp

orange juice

freshly squeezed or bottled

Ice

For garnish: jalapeño to make it a spicy margarita

cucumber, or lime wedge
Instructions
Run a lime wedge around ½ of two glasses and dip the glasses in a plate of Tajin or chili lime seasoning.

Fill the glasses ¼ of the way full with ice.

Split the can of Hiyo between the glasses.

Add the juice from each lime to each glass.

Then add 2 tbsp of orange juice to each glass. Give the mixture a gentle stir.

Add a garnish of your choice and enjoy!
Notes
*Don't shake, as Hiyo is a carbonated beverage. 
More Mocktail Recipes
If you're a fan of mocktail recipes, you are going to love these mocktail recipes: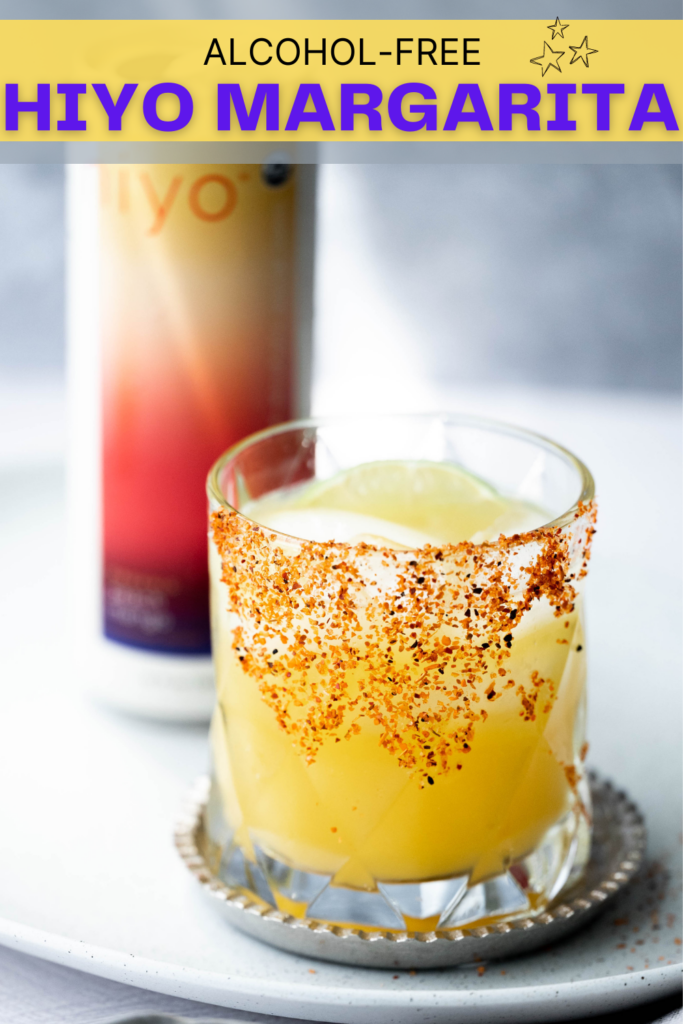 Let's connect?
If you loved this recipe I'd appreciate it if you leave a 5 star review on the recipe card below. Also, follow me on Instagram and Pinterest for more recipe and food content!