This post contains affiliate links. If you click a link and make a purchase, we will make a commission. Thank you.
I've had my Stanley 40 oz Tumbler for almost a month and it's time I share a more in-depth review! Almost everyone wants to know: is the Stanley 40 oz Tumbler Worth It?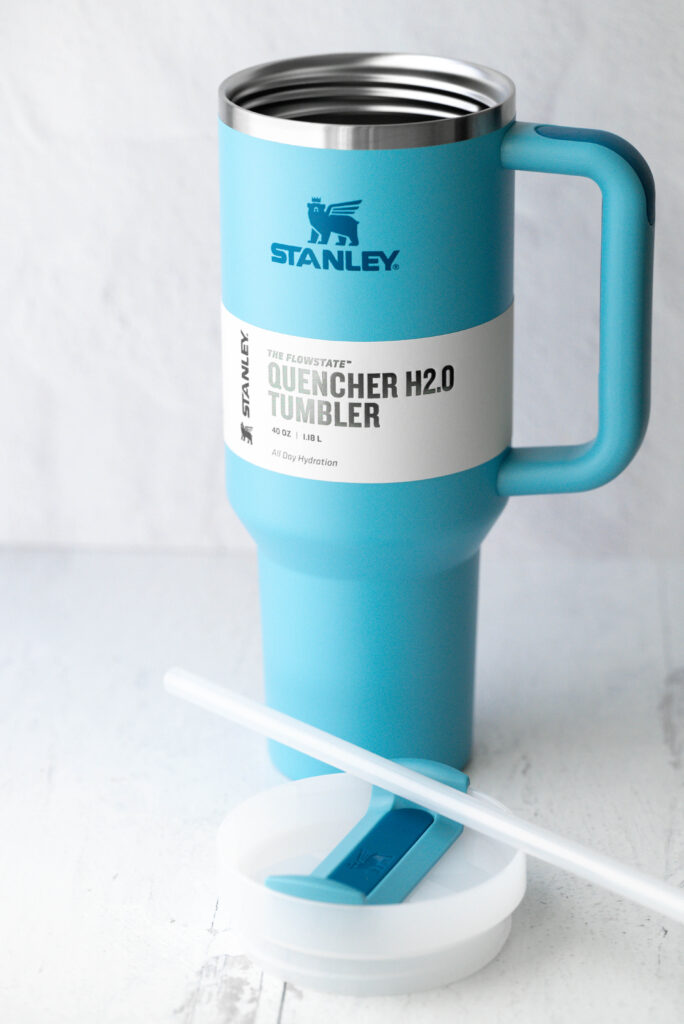 Jump to:
First let me say, I've always been somewhat of a sucker for something that everyone seems to be using. Usually I don't feel the need to be on top of *all the trends* and I'm often not. Especially now that I'm a mom of 3, I just don't always have the time to keep up with everything that's trending.
That said, when I started seeing everyone walking around with these huge Stanley tumblers, I had to buy one. There was some difficulty, because they're hard to find (they sell out fast).
However, I found one! And I bought one!
Not only did I buy the Stanley 40 oz to give it a try, but I also bought the Yeti 35 oz with a handle, you can read that comparison here.
The Stanley 40 oz tumbler is absolutely worth it!
This is the #1 question about this cup that everyone wants to know, is it worth it? And that's a big heck yes. I understand that you may be limited on kitchen space and you probably have enough stainless steel tumblers and tops rolling around in your cabinets, but this one is worth adding.
Top 5 things I'm loving about this tumbler: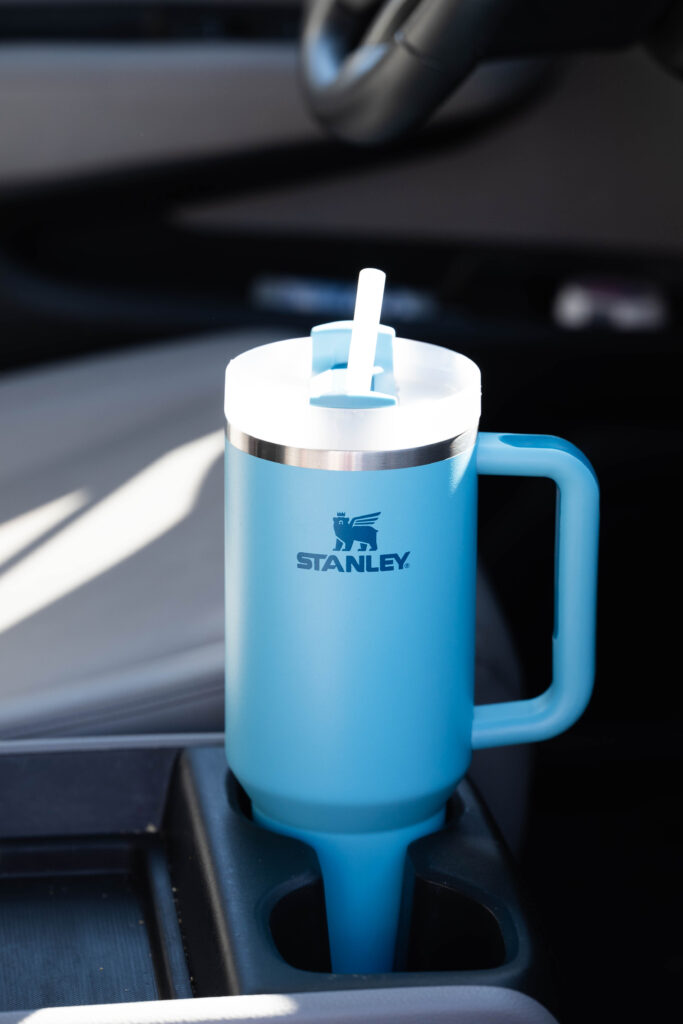 Easy to carry: The handle is awesome, it's very comfortable to hold. There's no other tumbler that's quite as nice to hold in your hand, I know that sounds strange, but once you try it you'll get it and see that there's no going back.
Fits in your car cup holders: I have an Odyssey and my husband has a Tacoma. This cup fits nicely in the main cup holders and in the pocket cup holders on the door.
I drink more water: I'll admit it–this tumbler helps me to drink more water throughout the day. It's so darn convenient to carry around and sip on all day.
Perfect for at home and gym workouts: you can put it on the floor or off to the side and sip on it as you need to. It doesn't fit in the cup holder of my Peloton nicely, but it does fit nicely into the cup holder on my treadmill, so that's just something to keep in mind.
Great for your nightstand: I drink a lot of water at night. I know that's not recommended because having to pee keeps you awake all night, but I like to have it on my nightstand. I drink almost all of the water by morning. One standard Yeti tumbler has never been enough for me, I used to keep two beside my bed, but I've replaced those with the handy Stanley.
Some things to consider
I simply cannot seem to find a lot of fault with this cup, the only real issue is (and this isn't an issue, per se), it's more of an at home, work, or travel tumbler. You can't throw it in your bag and worry that it won't leak all over your things, because it absolutely will!

It's not leak proof. And if you knock it over, you'll need to pick it up because it will leak. That said, this hasn't been a huge issue for me. When I need a leak proof cup, I use my Hydroflask with the screw cap.
Which Stanley tumbler should I get?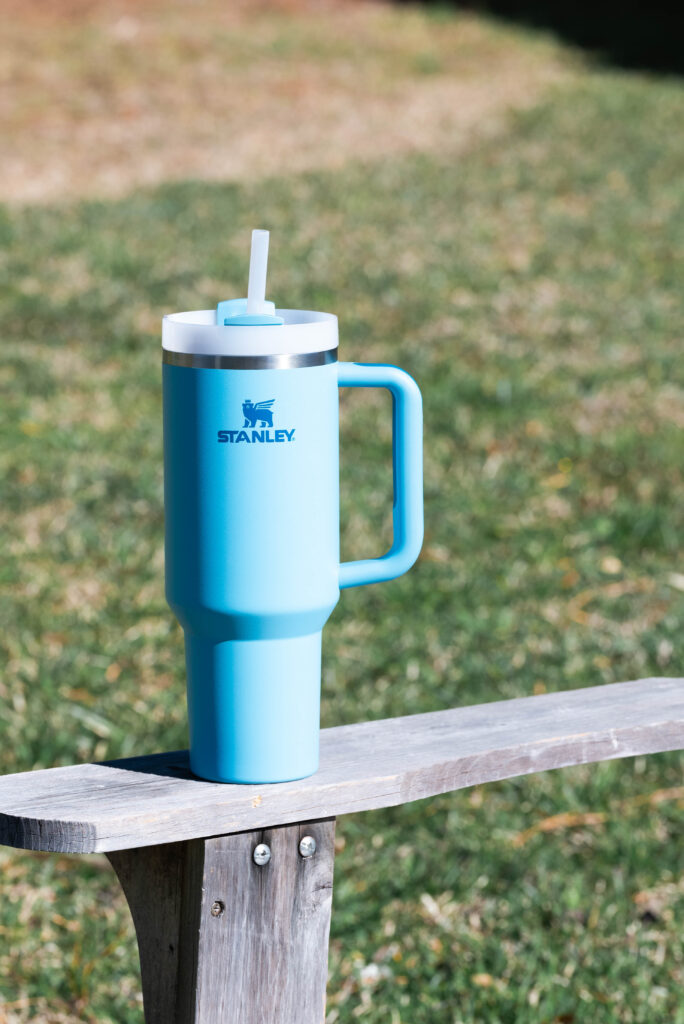 I have this one, it's pretty, and I got it for the summer. When fall rolls around, I'll probably grab a seasonal color.
How can I get a Stanley tumbler - they're always out of stock on the website
You can try your luck on the Stanley website, but I know they're always out of stock in the premium colors. Luckily, now you can get them at Target! They're not selling out as quickly as they were a month ago so I suspect if you're not super picky about the color, you'll have no trouble getting your hands on one!
I was able to get mine at Dick's Sporting Goods. I'd check there, too!
Alternatives to the Stanley 40 oz tumbler
I love this for various reasons, again those reasons are: it's great for car travel, the gym, work, and at home. Granted that this is what you're looking for in a tumbler, I think a few great alternatives would be:
Simple Modern 40 oz Tumbler - you might have trouble getting this tumbler, it's pretty popular and I think it might be just as nice (if not nicer) than the Stanley!
Stanley 30 oz Tumbler - (it's just like the 40 oz tumbler, but a bit smaller. I like this one for kids/teens, it's perfect for long car trips!)
Yeti 35 oz Tumbler with Handle - the only downside to this tumbler is the handle. Yet really needs to fix that it's not very functional and it's uncomfortable but I still like and use this tumbler a lot.
FAQ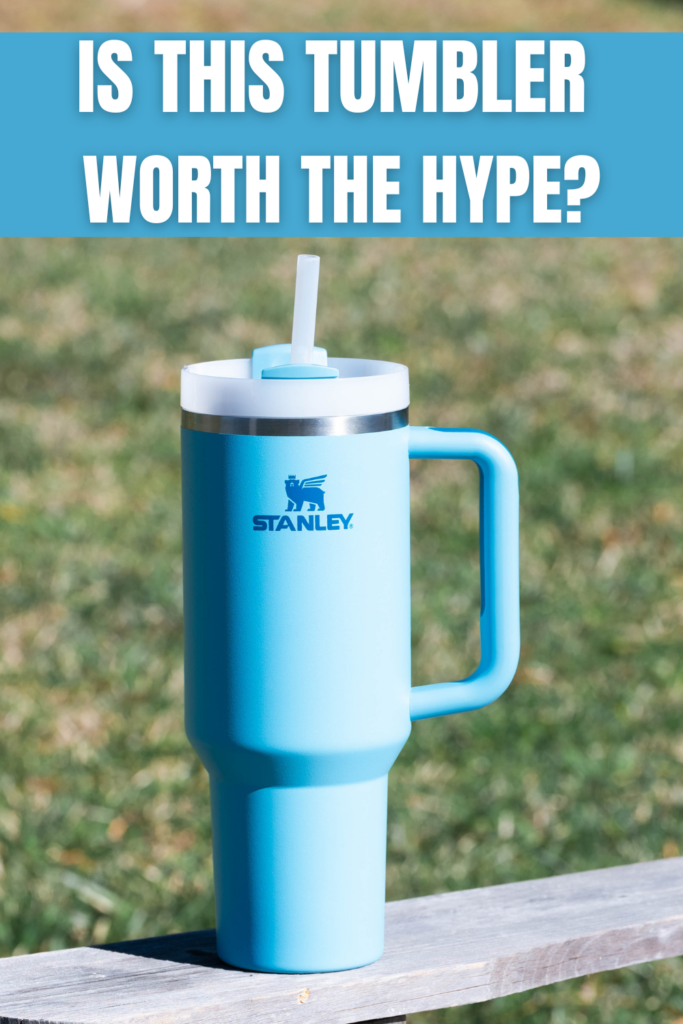 Stanley tumbler cheers!