This post contains affiliate links. If you click a link and make a purchase, we will make a commission. Thank you.
Don't miss this EASY Billy Miner Pie (The Keg Copycat) recipe! It's so delicious, and seriously easy.  Impress everyone with this recipe because it's kind of a show stopper.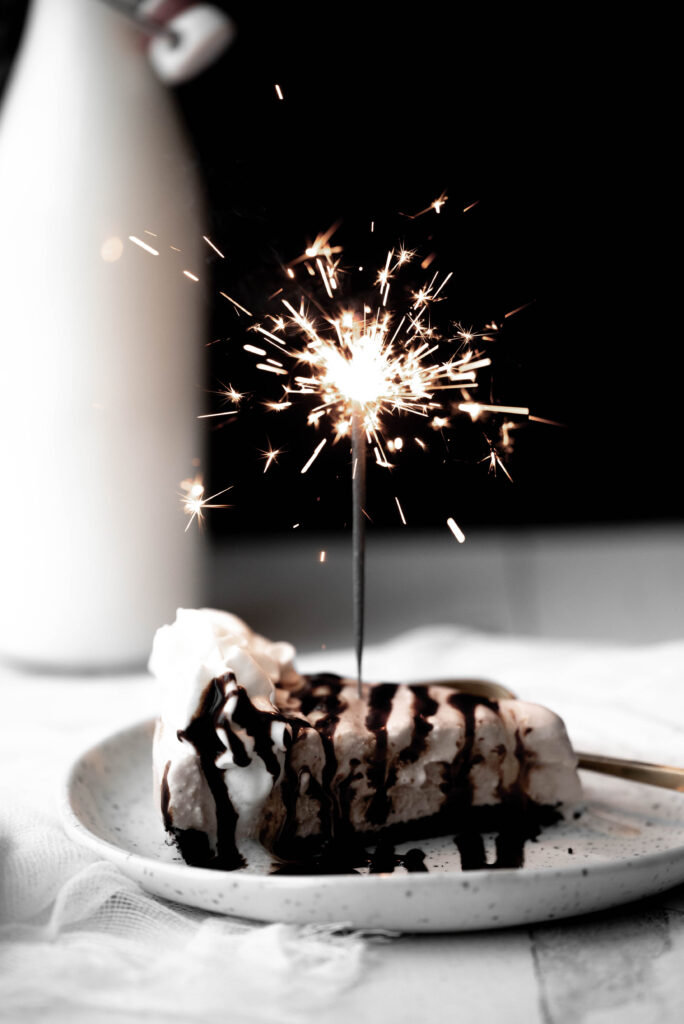 If you've been to The Keg, you've had their famous Billy Miner Ice Cream Pie! And if you haven't, chances are you saw someone else with it, eyeballed it, and now you're wanting to make it at home. 
Jump to:
Who is Billy Miner, anyway? And why is this pie named after him?
The inspiration for this recipe came from a Canadian restaurant chain called The Keg Steakhouse + Bar. The pie recipe is named after a notorious train robber, Billy Miner. He's a famous criminal who operated in the late 19th century in the Western United States and Canada. He became known as "The Gentleman Bandit" due to his polite demeanor during robberies.
Why name the pie after him? The colors in the mocha ice cream, caramel, and chocolate on the chocolate crust resemble the colors of Billy Miner's beard and mustache.  The dessert is a tribute to his notoriety and has become a delicious homage to his legacy.  Kind of fun, huh?
How to make Billy Miner pie: ingredients + step by step:
First make the crust: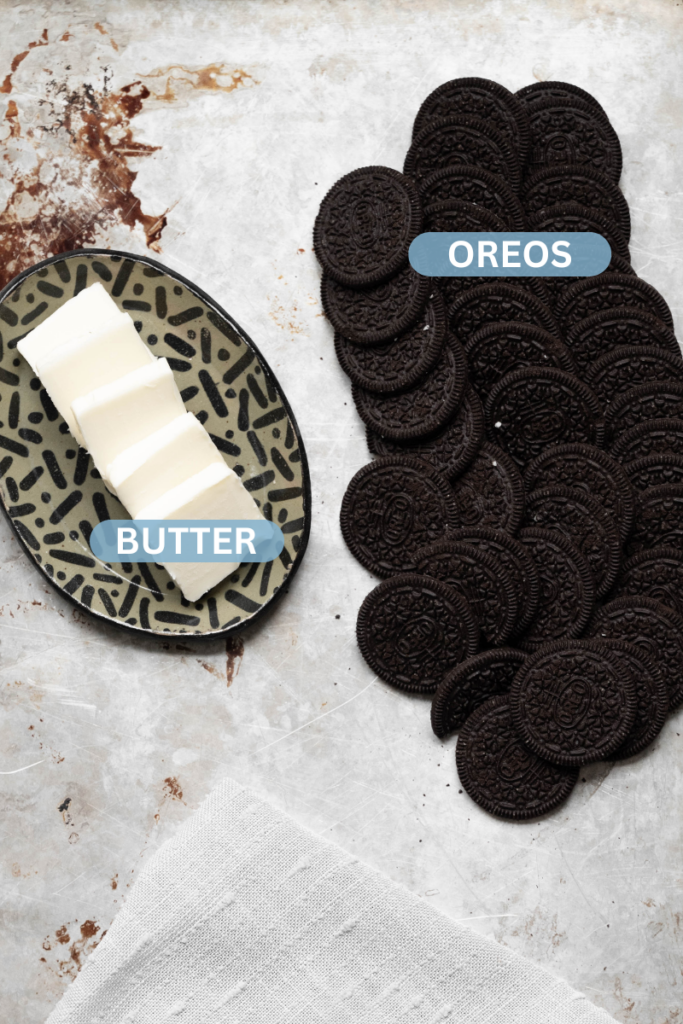 Pulse 21 Oreos (centers removed) in a food processor or blender.
Add melted butter. Blend some more.
Smash the mixture, evenly, onto the bottom of a springform pan.
Freeze until it's sold (at least 30 minutes).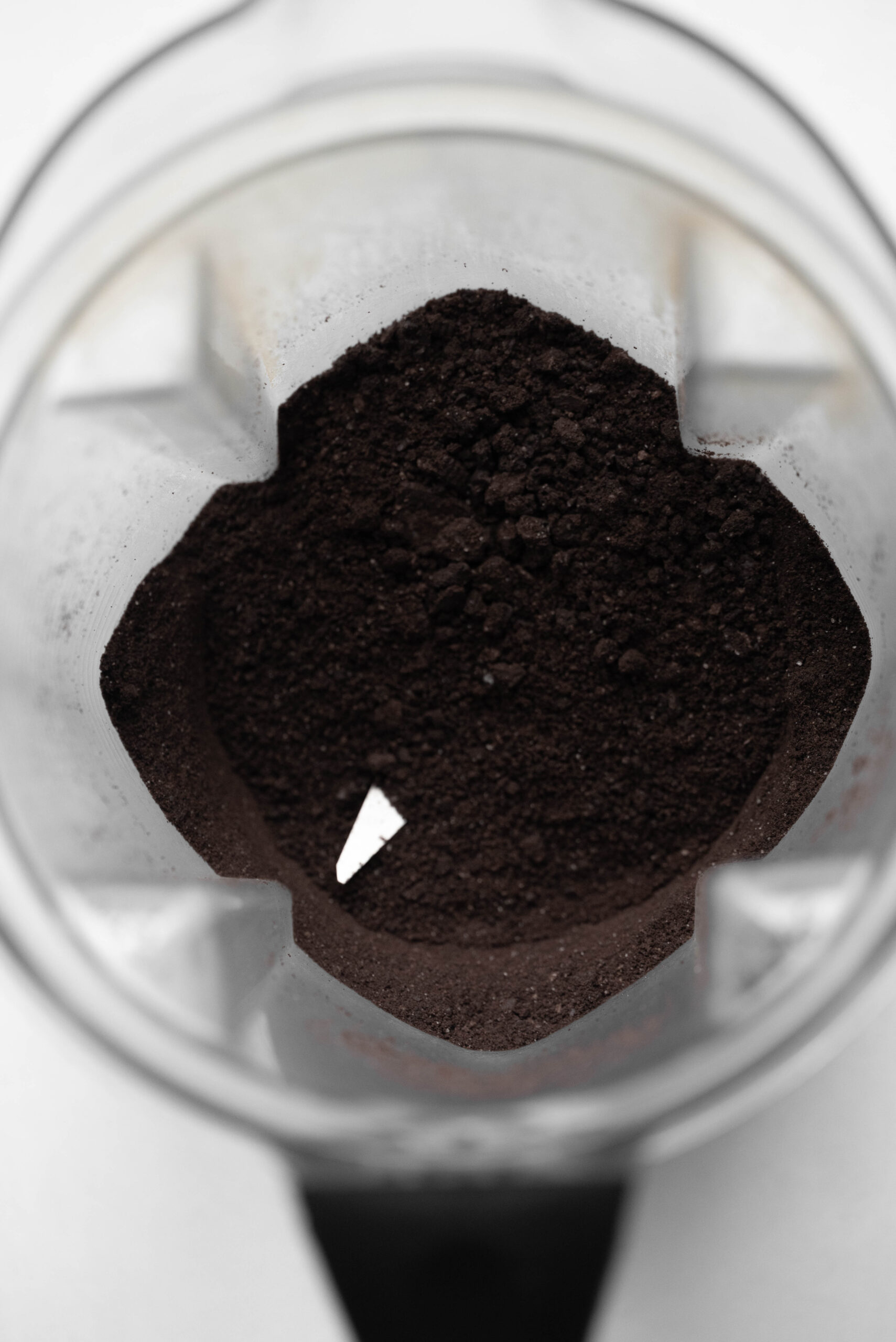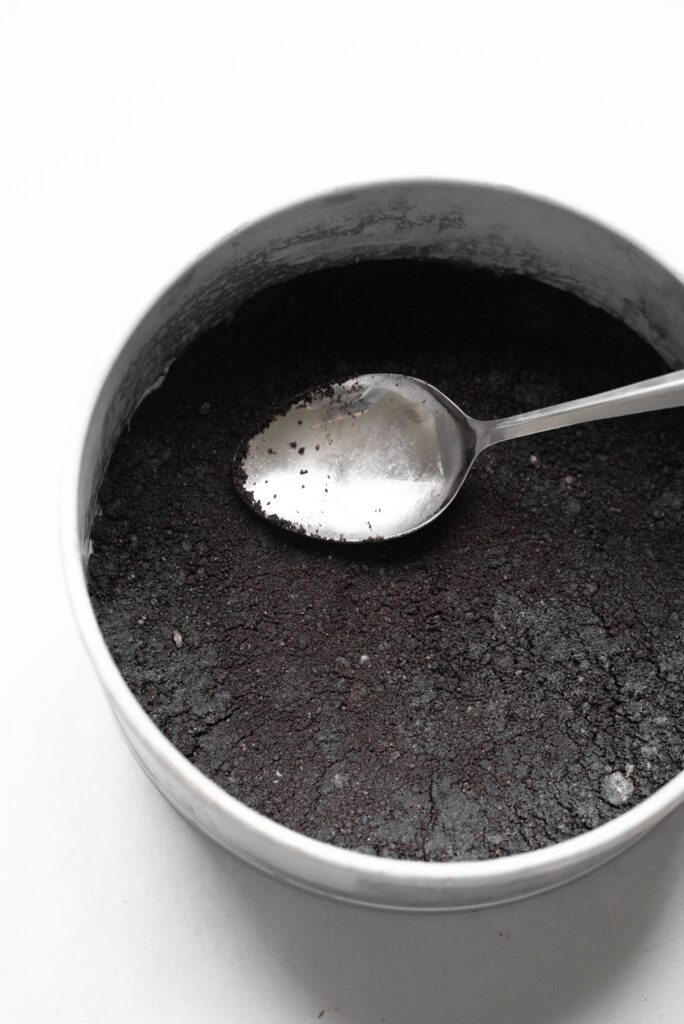 Then make the pie: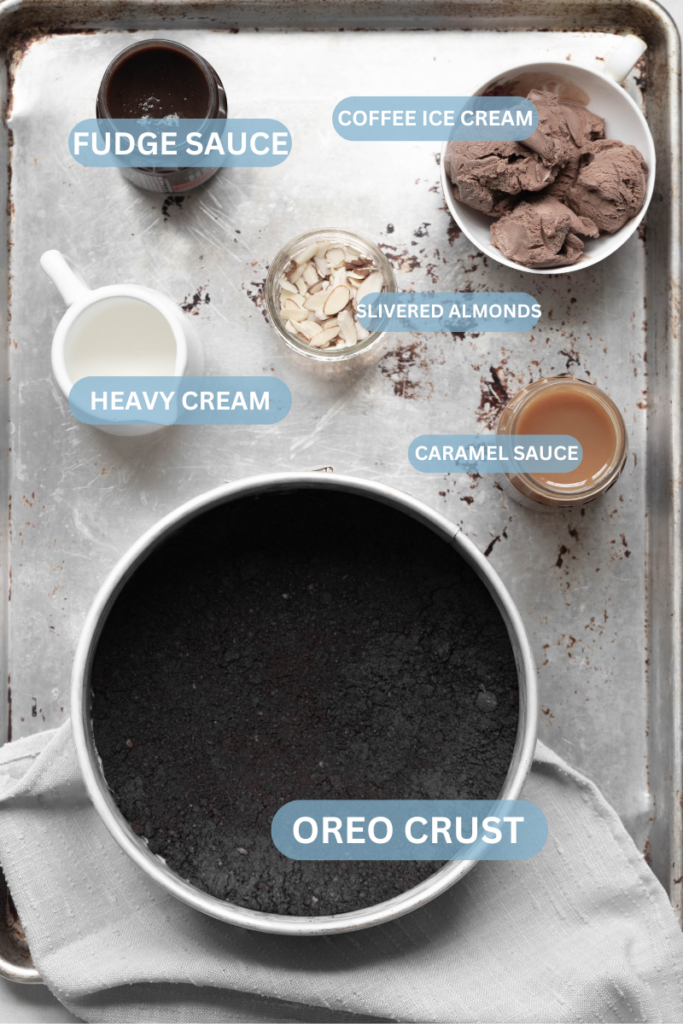 Blend ice cream and heavy cream in a blender until smooth.
Spread it over the oreo crust.
Freeze for 6 hours. Or until it's totally solid, overnight is probably best, unless you're in a hurry to eat it.
Drizzle caramel and chocolate fudge around the edges of the pie, top with some slivered almonds.
Serve it up with some whipped cream and extra chocolate drizzle.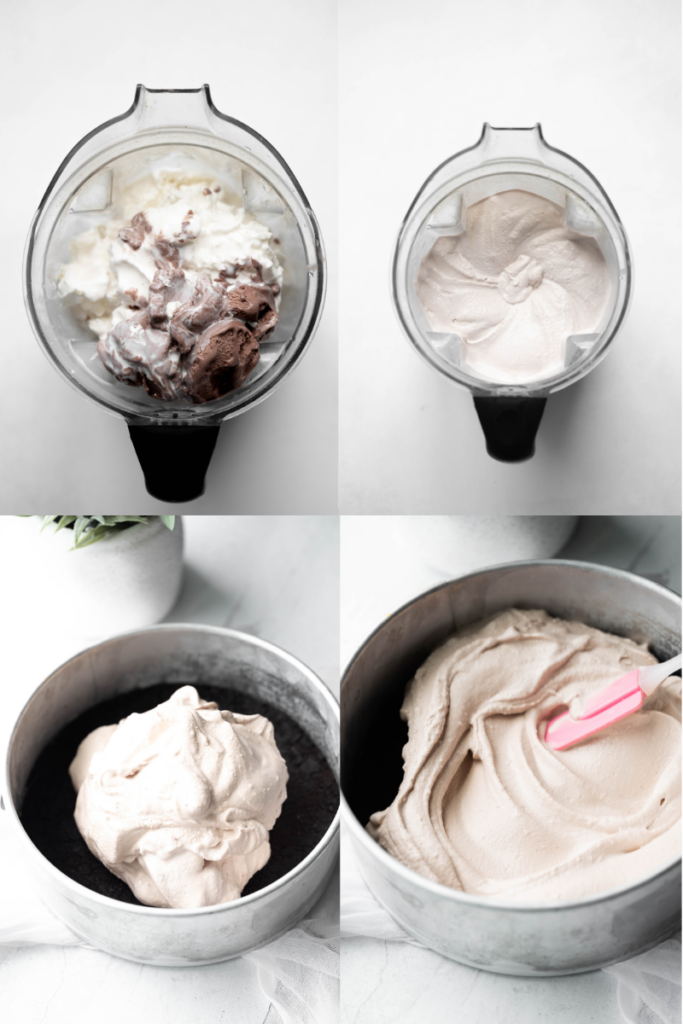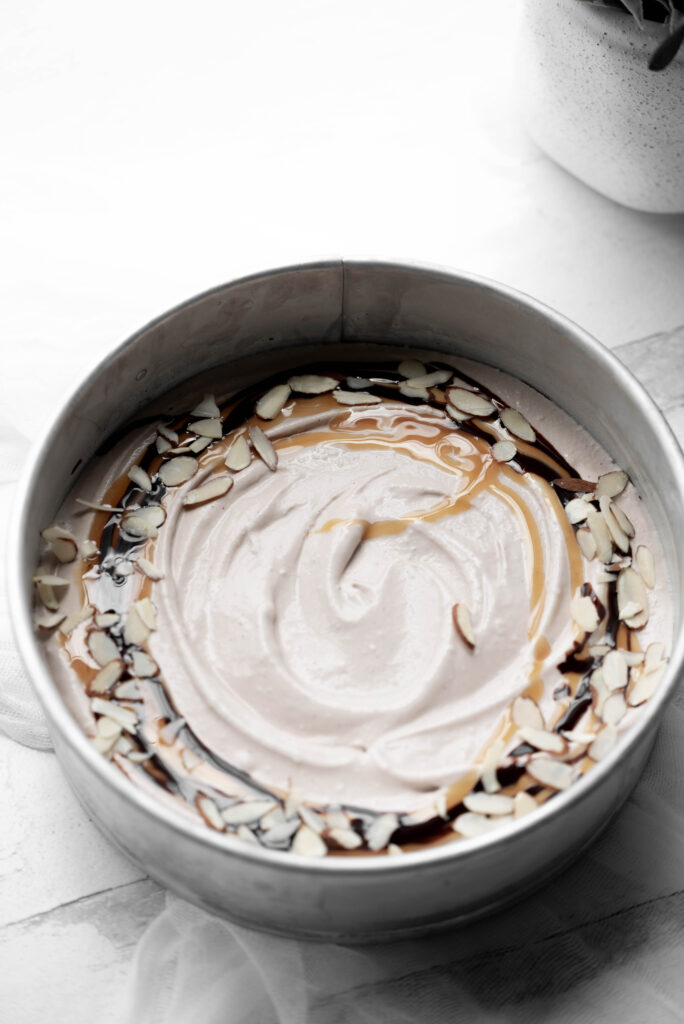 That's it.  It's really easy to make.  And it looks fancy.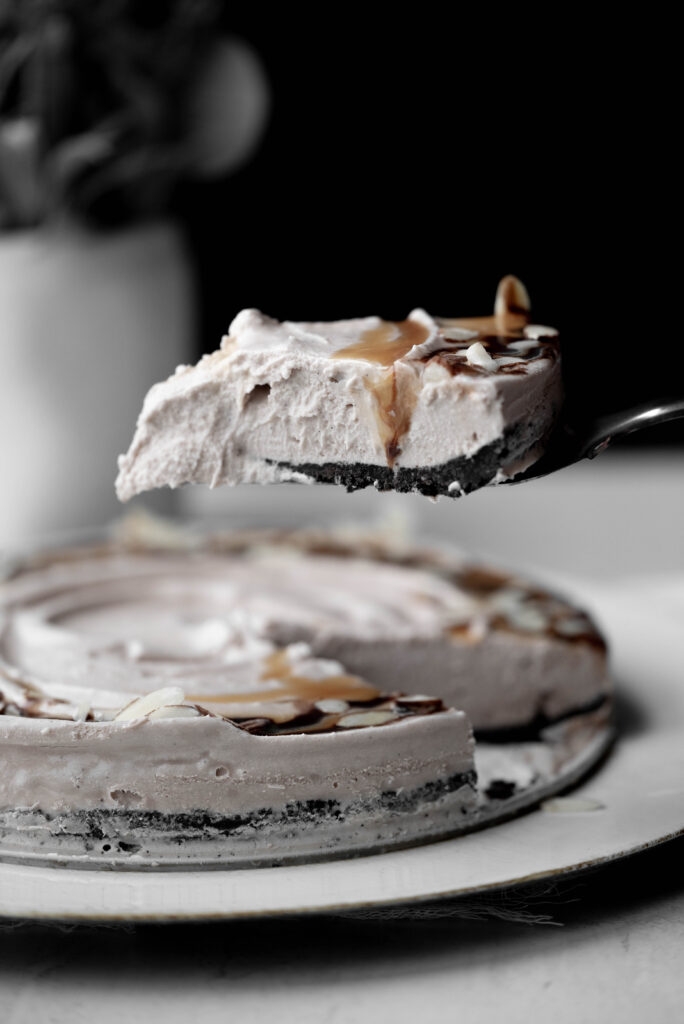 Serving ideas
This pie is fabulous to serve at BBQs, adult birthday parties, or make it for your husband for a little at-home-date-night.  Not only is it delicious but it looks like it's more difficult to make than it is. 
FAQs
It's difficult to find mocha ice cream at the grocery store.  And I had a little trouble myself but here is an easy solution:
Blend equal parts of chocolate and vanilla ice cream (1 ½ quarts total) together with 1 tablespoon of coffee extract.  And boom. Perfect mocha ice cream.  This is actually my preferred way to make mocha ice cream because it tastes a lot better than most of the store bought coffee-flavored ice creams.
I just don't recommend doing this. If you want to make this ahead of time, and you absolutely must travel with it, I recommend wrapping it in dry ice and transporting it in a YETI cooler, then placing it into the freezer for at least 1-3 hours when you get to your destination before serving it.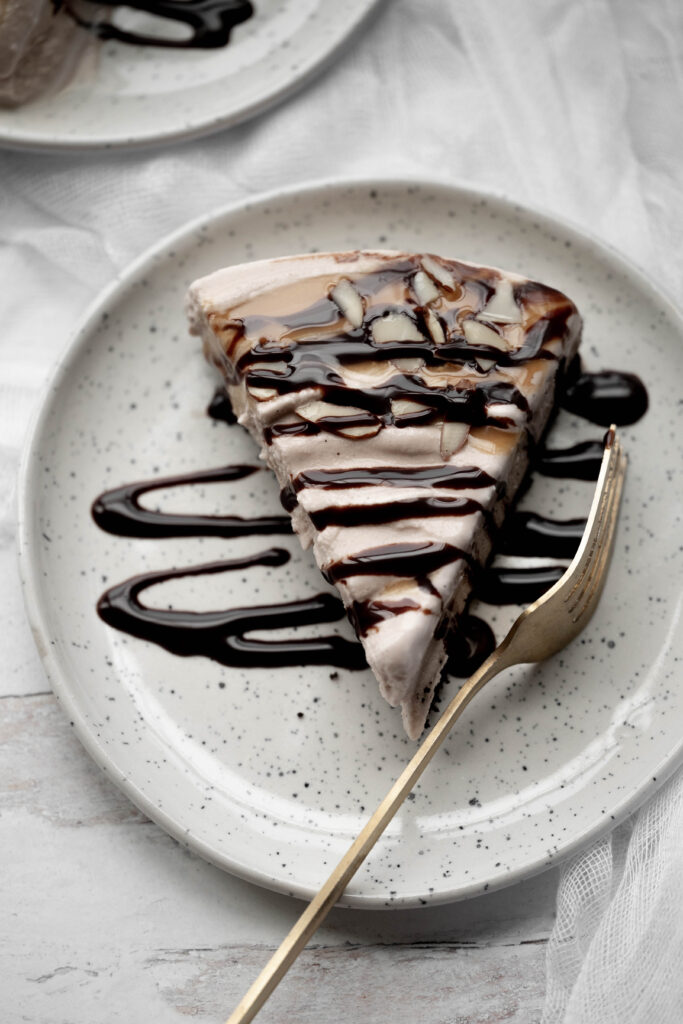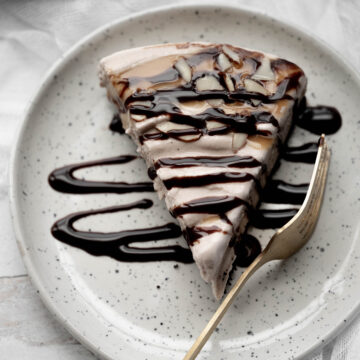 Easy Billy Miner Pie (The Keg Copycat)
Don't miss this EASY Billy Miner Pie (The Keg Copycat) recipe! It's so delicious, and seriously easy.  Impress everyone with this recipe because it's* kind of* a show stopper.
Ingredients
For The Oreo Crust
21

Oreos

cream centers removed

5

tbsp

butter

melted
For the Pie
1.5

quarts

mocha flavored ice cream*

½

cup

heavy cream
For the Topping
2

tbsp

caramel sauce

2

tbsp

chocolate fudge sauce

¼

cup

sliced almonds
Instructions
For the Oreo Crust
Cut a piece of parchment paper to fit the bottom of an 8-inch springform pan.

Remove the cream from 21 Oreos.

Finely grind the Oreo shells in a blender or food processor.

Add the melted butter and pulse a few more times.

Press the mixture into the bottom of the springform pan, be sure to press it in firmly by using the back of a large spoon or the bottom of a measuring cup. Place it into the freezer while you prepare the rest of your ingredients.
For the Pie
In a blender, add 1.5 quarts of coffee flavored ice cream and ½ cup of heavy cream. Blend until it's smooth and fluffy, you may need to stop the blender to scrape the sides occasionally.

Spread the mixture into the springform pan.

Place it into the freezer for 6 hours, or until it's frozen.
For the Toppings
Add the caramel and chocolate fudge sauce around the edges.

Serve immediately or place the pie back into the freezer until you're ready to serve it.
Notes
*Notes: About the coffee Ice cream, it's hard to find. Mocha ice cream is best, but if you can't find it, blend an equal amount of chocolate and vanilla ice cream ( 1 ½ quarts total) with 1 tablespoon of coffee extract.
Leftovers can be saved in the freezer for up to a month. Just wrap the leftovers in foil and place them into the freezer.
Nutrition
Calories:
230
kcal
|
Carbohydrates:
27
g
|
Protein:
3
g
|
Fat:
13
g
|
Saturated Fat:
5
g
|
Polyunsaturated Fat:
2
g
|
Monounsaturated Fat:
5
g
|
Trans Fat:
0.02
g
|
Cholesterol:
18
mg
|
Sodium:
153
mg
|
Potassium:
125
mg
|
Fiber:
1
g
|
Sugar:
17
g
|
Vitamin A:
239
IU
|
Vitamin C:
0.1
mg
|
Calcium:
37
mg
|
Iron:
4
mg
Let's connect?
Follow me on Instagram and Pinterest for more recipe and food content!
More recipes you'll love: