This post contains affiliate links. If you click a link and make a purchase, we will make a commission. Thank you.
Cotton Candy Champagne is a fun Valentine's Day or party drink! It's especially popular at weddings, wedding showers, baby showers (pink or blue cotton candy), and you can easily customize this to make it a cotton candy cocktail!  This drink is so easy and so cute, just two ingredients and the time it takes to pop champagne and pour!
Okay so obviously this recipe is cute. Like, really cute.You just need two ingredients: champagne and cotton candy (which you can buy online right here).
It has such a wow factor and there are so many situations where this drink is appropriate. 
How to make cotton candy champagne
Make it by simply pouring champagne and adding cotton candy. The thing to keep in mind, though, is as soon as the cotton candy hits the champagne it's going to dissolve.
If you're serving this at a party it would be nice to suspend it over the champagne with a cocktail pick or serve the cotton candy on the side so that the guests can add it to their drink. 
How to make it: step by step
It couldn't be simpler with just a bottle of champagne and some store-bought cotton candy in the color of your choice!
Just pour some fresh champagne, and top it with cotton candy!
Can you make it ahead of time?
Not really, bubbles are best served fresh and when the cotton candy hits the champagne they're going to dissolve!
This is a drink best served fresh! But this shouldn't be an issue as it is so incredibly easy!
More drink recipes you'll love: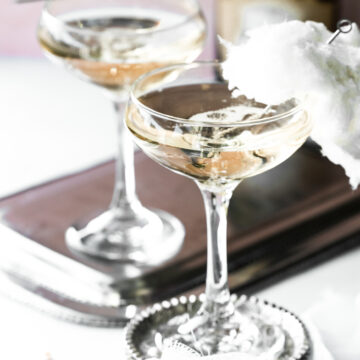 Cotton Candy Champagne
Cotton Candy Chapagne - just 2 ingredients! Is super easy, fun, and perfect for baby showers, wedding showers, or just when you're feeling fun!
Ingredients
1

bottle

Champagne or Prosecco

1

handfull

Cotton Candy
Instructions
Pop a bottle of champagene and split it between 4 champagne flutes.

Top with cotton candy. It's best to do this by suspending it over the top of the champagne with a cocktail pick or stir. Or just serve it on the side. As soon as it hits the champagne it's going to dissolve, just keep that in mind for serving!
Let's Connect?
If you make and love this recipe, I'd appreciate it if you leave a star rating!  Also, please share, & follow along on Pinterest!