This post contains affiliate links. If you click a link and make a purchase, we will make a commission. Thank you.
If you're a huge fan of Olive Garden's endless breadsticks, like almost everyone on earth, you likely have leftovers.   What if you don't want them the next day and want to freeze them? Well, this comprehensive guide has you covered!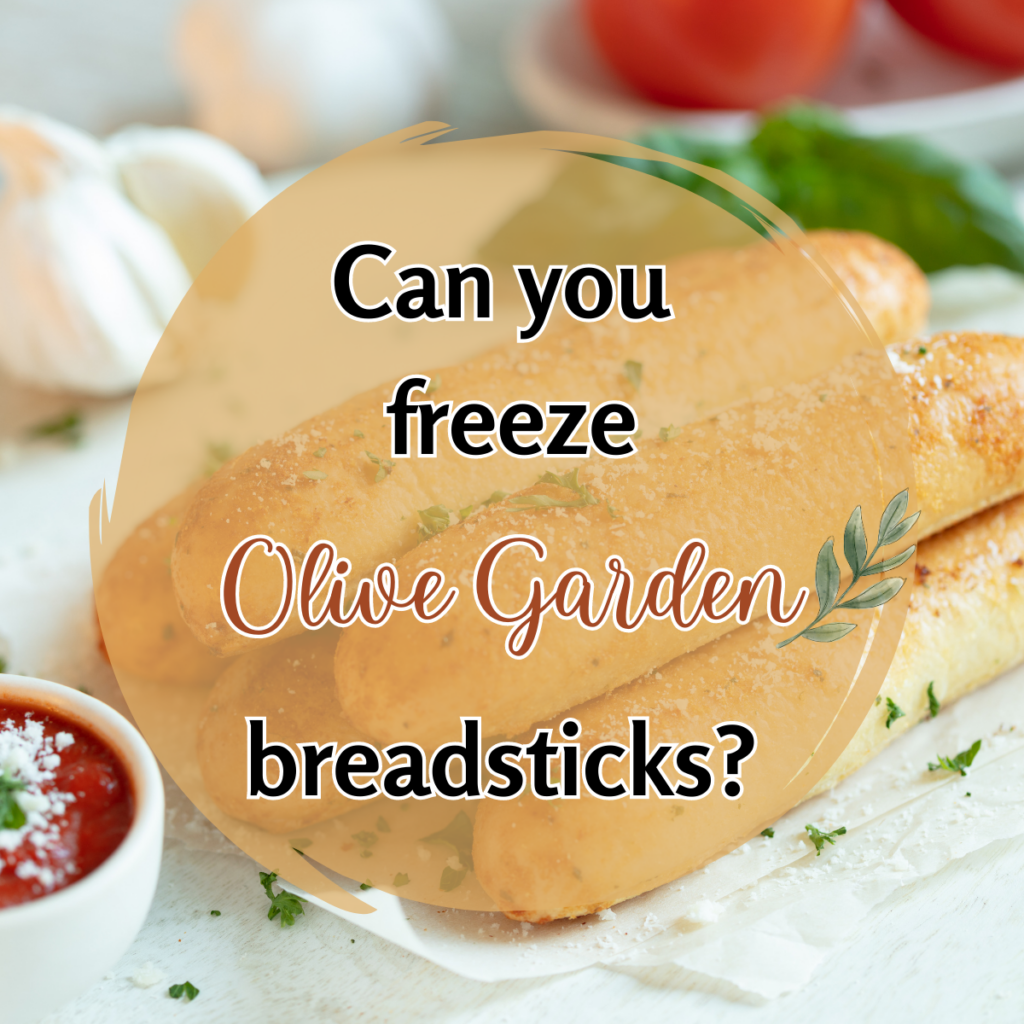 Next time you want to enjoy Olive Garden's famous breadsticks (which are better than homemade breadsticks, if we're being honest), then follow these simple freezing and reheating instructions and you'll be ready to go! 
Jump to:
First, some considerations
To ensure your frozen Olive Garden breadsticks retain their exceptional taste and texture, consider these tips:
Labeling: Clearly label each heavy-duty freezer bag, airtight container, or freezer-safe container with the freezing date. This will help you keep track of their freshness and consume them within a reasonable time frame.
Storage Duration: While frozen breadsticks can remain safe to eat for up to 3 months, it's best to enjoy them within the first 1-2 months for the best results.
Thawing Process: When you're ready to enjoy your frozen breadsticks, take out only the number you need. Thaw them in the refrigerator overnight or at room temperature for a few hours. Avoid using the microwave for thawing, as it can lead to uneven defrosting and negatively affect their texture.
Freezing instructions
Olive Garden breadsticks are amazing, warm breadsticks, they make a great side dish for Italian Food. They're iconic because they're dusted with garlic and parsley. Maintaining these characteristics when freezing and reheating requires a bit work.  But luckily it's easy and anyone can do it.  
Follow these tips:
First, allow them to cool: Allow your leftover Olive Garden breadsticks to cool down at room temperature before freezing. This prevents excess moisture from forming inside the packaging, which can lead to sogginess when thawed.
Layering for Flash Freezing: Arrange the breadsticks in a single layer on a baking sheet onto of parchment or wax paper. Placing them in a single layer helps prevent clumping during the initial freezing process. Then freeze them for 1 hour.
Wrapping Individually: After flash freezing, discard the parchment or wax paper, wrap each breadstick individually using plastic wrap or aluminum foil. This step is essential to prevent them from sticking together in the freezer. It also ensures that you can remove and thaw only the desired quantity.
Airtight Packaging: Once the breadsticks are partially frozen, transfer them into airtight freezer-safe ziplock bags or containers. Removing as much air as possible before sealing helps prevent freezer burn and deterioration.
Reheating Olive Garden Breadsticks in your own kitchen (4 methods)
Olive Garden breadsticks are delicious breadsticks, not only is the taste what keeps people coming back, but also the texture! To be sure that you don't end up with a super hard or nasty reheated breadstick, consider these tips:
Oven Method: Preheat your oven to 350 degrees F. Remove the plastic wrap or foil from the frozen breadsticks and place them on a baking sheet drizzled with olive oil, and add a little bit of garlic butter, this is a great way to keep them flavorful. Reheat for 8-10 minutes in the preheated oven, or until they are heated through.
Air fryer: The air fryer is a great way to reheat Olive Garden's breadsticks. Line your air fryer with some parchment paper, then brush the breadsticks with garlic powder, or garlic salt, and melted butter, and set the air fryer to "reheat" for 3-5 minutes. All air fryers are a little bit different so be sure that they're warmed through before you remove them from the air fryer. This is my favorite way to reheat buttery breadsticks because they'll end up golden brown (possibly even better than the first time you had them).
Microwave: This isn't the best way to reheat the breadsticks, but you can do it this way and it will be fine. First, be very sure your breadstick is thawed with this method (especially) because it will heat unevenly if there are frozen spots. So, after you're sure it's thawed, wrap it in a paper towel, then microwave it on medium heat for 30 seconds, in increments, until it's warmed through.
Toaster oven: To reheat breadsticks in a toaster oven, preheat the toaster oven to around 350°F, then place the breadsticks directly on the oven rack or a prepared baking sheet (with a little olive oil and butter) and heat for about 5 minutes, or until they are warmed through. They're going to taste just like fresh breadsticks with this method! 
Dinners to make with leftover breadsticks
I hope this helped you with your Olive Garden breadsticks, they're not hard to reheat in your own kitchen, but it takes a little work. Consider making these great recipes with your leftover Olive Garden breadsticks:
Follow me on Instagram and Pinterest for more recipe and food content!