This post contains affiliate links. If you click a link and make a purchase, we will make a commission. Thank you.
What can we learn from Saint Monica, the Patron Saint of Mothers? 
Her dedication to the faith and constant prayer played a crucial role in the life and conversion of her son, Saint Augustine, who is one of the most brilliant and well known philosophers in history. Through prayer, we can accomplish God's will for those around us (even if it takes some serious time).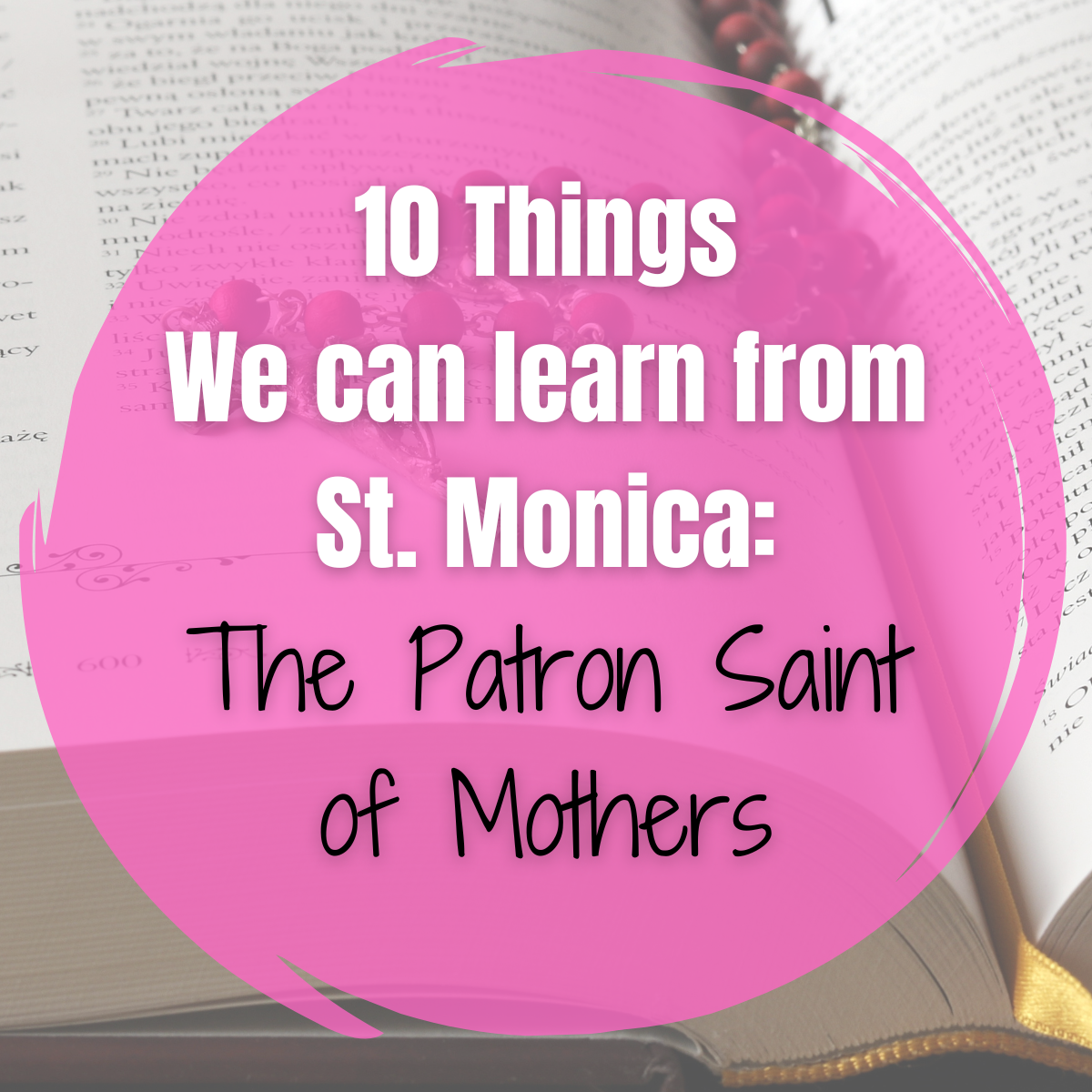 Jump to:
In our chaotic society, we've become rather accustomed to instantaneous and consistent dopamine hits. Whether through social media likes, the next episode of whatever we're loving on Netflix, and food delivery. We want things quickly, and we can typically get them that way.
Often, when we pray, we like quick results. Sometimes we get them, and sometimes we don't. However, as Mothers, our patience is sometimes required when praying for our children and close relatives, and living out our vocation.
When life is busy, and we need to pray for those around us, it's helpful to look to St. Monica as our guide.  
Here are 10 things we can learn from St. Monica, The Patron Saint of Mothers: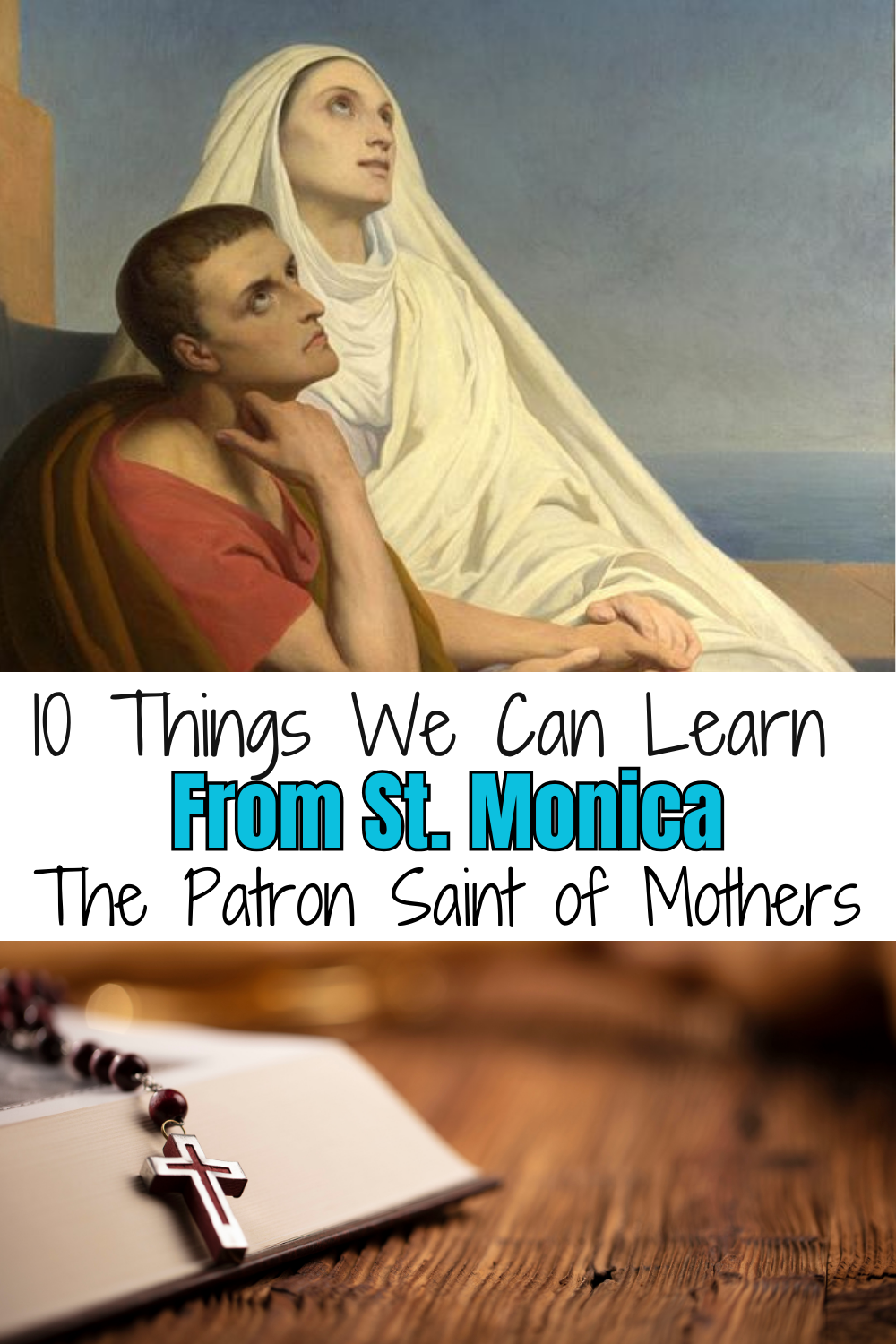 1. Patience - St. Monica had three children, the most famous (the oldest of her children) Saint Augustine. After the death of her husband, St. Monica learned that her son, at the time, had come to accept the Manichean heresy (the belief that all flesh is evil), and he was living a wayward, immoral life. After this, she stayed close to her son and prayed for him. She prayed for 17 years before his conversion to Christianity.
2. Consistency - St. Monica prayed for her son for 17 years, and she stayed close to him.  Even after he pulled a trick on her and set sail from his home to Rome without his her. Not only did he leave her behind, disappointing her, but she pursued him all the way to Rome and continued to pray for him.  
3. Kindness - I'm sure that many can relate, but St. Monica's husband was a hot-headed Pagan, and her mother-in-law was ill-tempered and argumentative. Saint Monica prayed for those around her and eventually all came to conversion.
4. Humility - Eventually St. Monica followed her son to Milan, and came under the influence of St. Ambrose (the Bishop). She was unaware of many of the local customs and was instructed by St. Ambrose to give up some practices that she held fast to (such as certain days of fasting), and adopted the practices of those around her. This shows that she was willing to learn, take instruction, and humble herself.
5. Leadership - while in Milan, St. Monica became a leader of the devout women as she had been in Tagaste. Not only did she realize it was her job to help her own family get to Heaven, but she extended her spiritual gifts to those around her.
6. Prayer - As a mother, she is exemplary in modeling the patience and persistence that it takes to continuously pray for our children. Even when it isn't instantaneous and feels as if it isn't "working".
7. Fasting - St. Monica constantly and consistently fasted and prayed for her son for 17 years. Fasting is a powerful tool for Catholics. It helps to make room for God in our life and when we're able to not only pray but offer our bodies as a form of penance, it makes prayer more impactful.
8. Self-discipline - The self-discipline that St. Monica exhibited when she spent 17 years praying for St. Augustine is an example for the mothers that pray out of concern for our children and families. She may not have always felt like doing it, because it's hard, but she did it anyway and with the faith that her prayers would be answered.
9.  Perseverance - St. Monica remained persistent in doing difficult things even when it felt like results weren't coming.  St. Monica remains a powerful intercessor and model for those of us who find it difficult to be patient in delayed gratification.  
10.  Closeness - Even when it is difficult, we should stay close to our children.  Whether they are upset with us or not, we must remain faithful parents.  St. Monica followed her wayward son to Italy so that she could stay close, praying and fasting for his sake.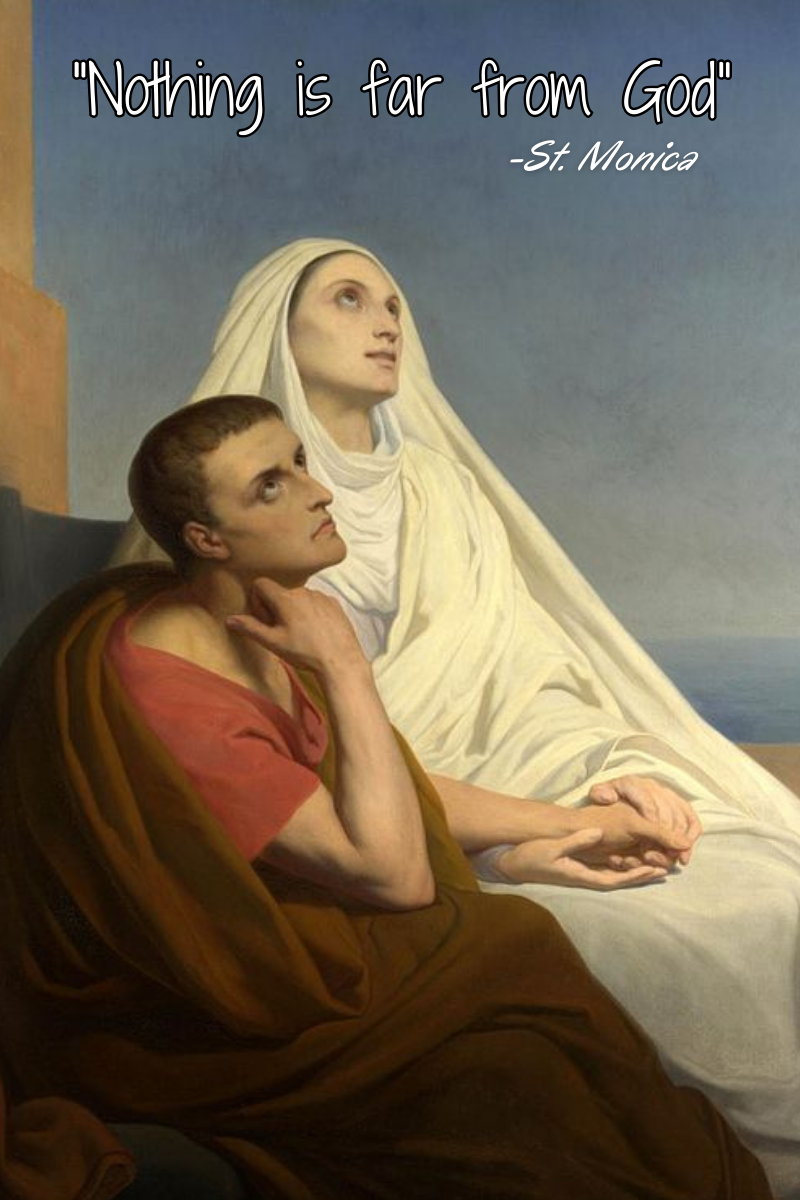 Prayer to St. Monica
Dear St. Monica,

We now ask you to pray with us
for all those sons and daughters that have wandered away from God,
and to add your prayers to those of all mothers
who are worried over their children.
Pray also for us that,
following your example, we may,
in the company of our children,
one day enjoy the eternal vision of our Father in Heaven.
Amen.
Source: This prayer can be found here.
Why is St. Monica Important?
We can learn from here that our prayers, however long they may take, can lead to great conversions, especially when it comes to our children and immediate family.   
Who is St. Monica?
St. Monica is the Patron Saint of Mothers (330-387).
When is St. Monica's Feast Day?