This post contains affiliate links. If you click a link and make a purchase, we will make a commission. Thank you.
Don't ever make pork chops without this Quick Pork Chop Brine ever again! You may be wondering if brining pork chops is worth the effort and I'm here to say, YES! It's 100% worth the effort.  This easy, quick (just 20 minutes!) brine will infuse your pork with flavor and keep it from drying up no matter if you're pan-frying, baking, or grilling!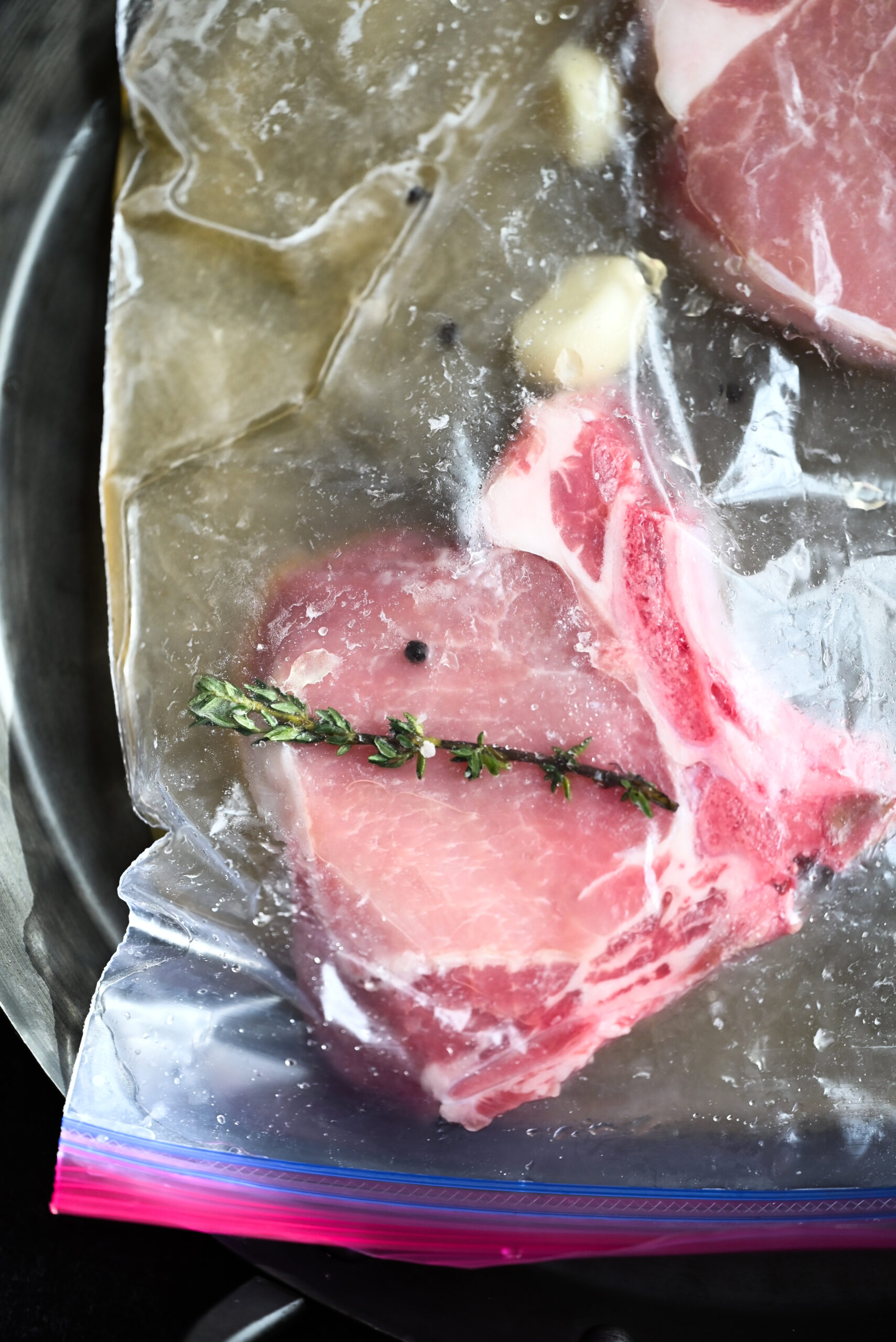 Jump to: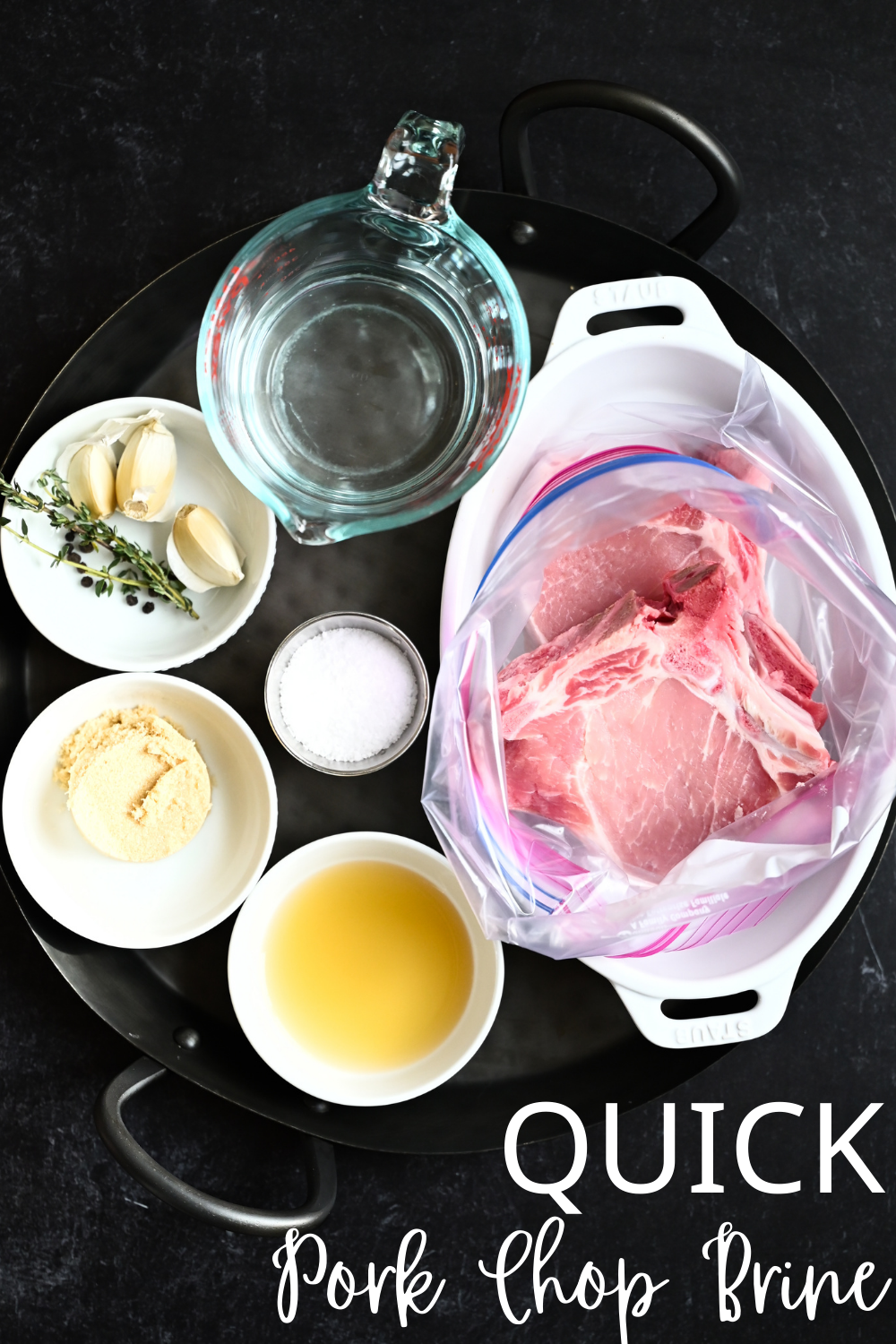 **This post contains affiliate links.  If you click a link and make a purchase, I'll make a commission.  Thank you for supporting this site!
What ingredients will I need to brine pork chops?
Pork
Water
Brown sugar
Coarse sea salt
Garlic cloves
Apple cider vinegar
Peppercorns
Rosemary sprigs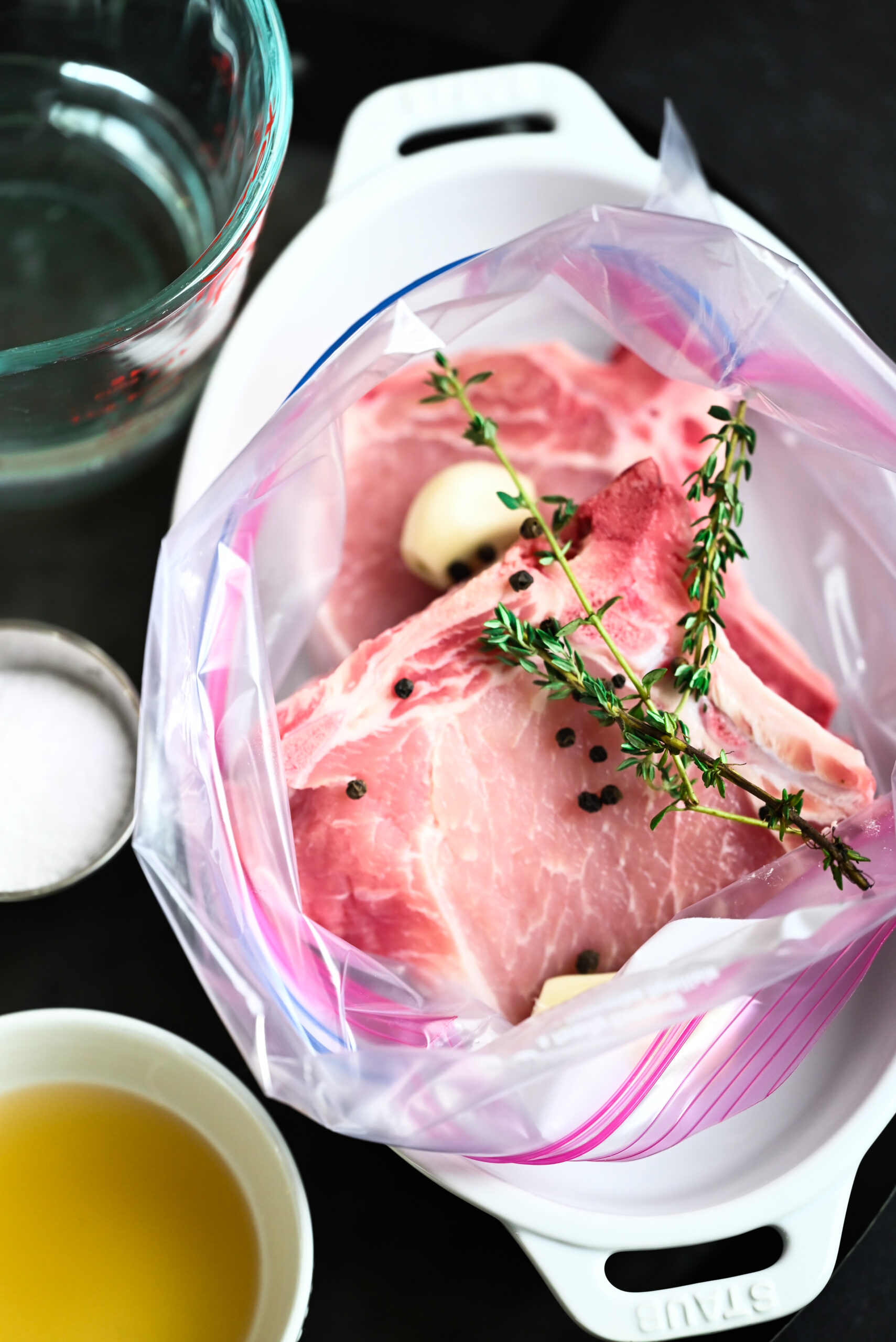 What does brining do?
During brining, the pork will absorb extra moisture, helping it stay juicy during cooking. It'll also absorb the salt and other flavorings, getting it nicely seasoned and even better? The salt and vinegar will break down some of the proteins in the meat, making it even more tender.
See, the thing is, pork can be a boring, tasteless cut of meat. Brining ensures that you won't be biting into a tough, chewy piece.
How will the brining process go?
Full ingredients and directions are listed below, but here's a quick rundown of how the process will go (and it'll only take about 5 minutes to prepare).
First, you're going to place your pork chops into a shallow baking dish or gallon-size, sealable bag.
Next, you're going to whisk together water, brown sugar, apple cider vinegar, and coarse sea salt (I recommend that you don't use iodized salt, sea salt won't leave a metallic taste in your mouth). I recommend and use this brand, right here.
It's really okay if it doesn't dissolve perfectly. Just make sure it's well combined.
Then, you're going to add the peppercorns, peeled garlic, and fresh thyme. Seal the bag or cover the dish.
Finally, just place it into the refrigerator for at least 20 minutes or up to 14 hours. Just don't brine it too much longer than that or it'll get way too salty and not really give you the effect you're looking for (delicious pork!).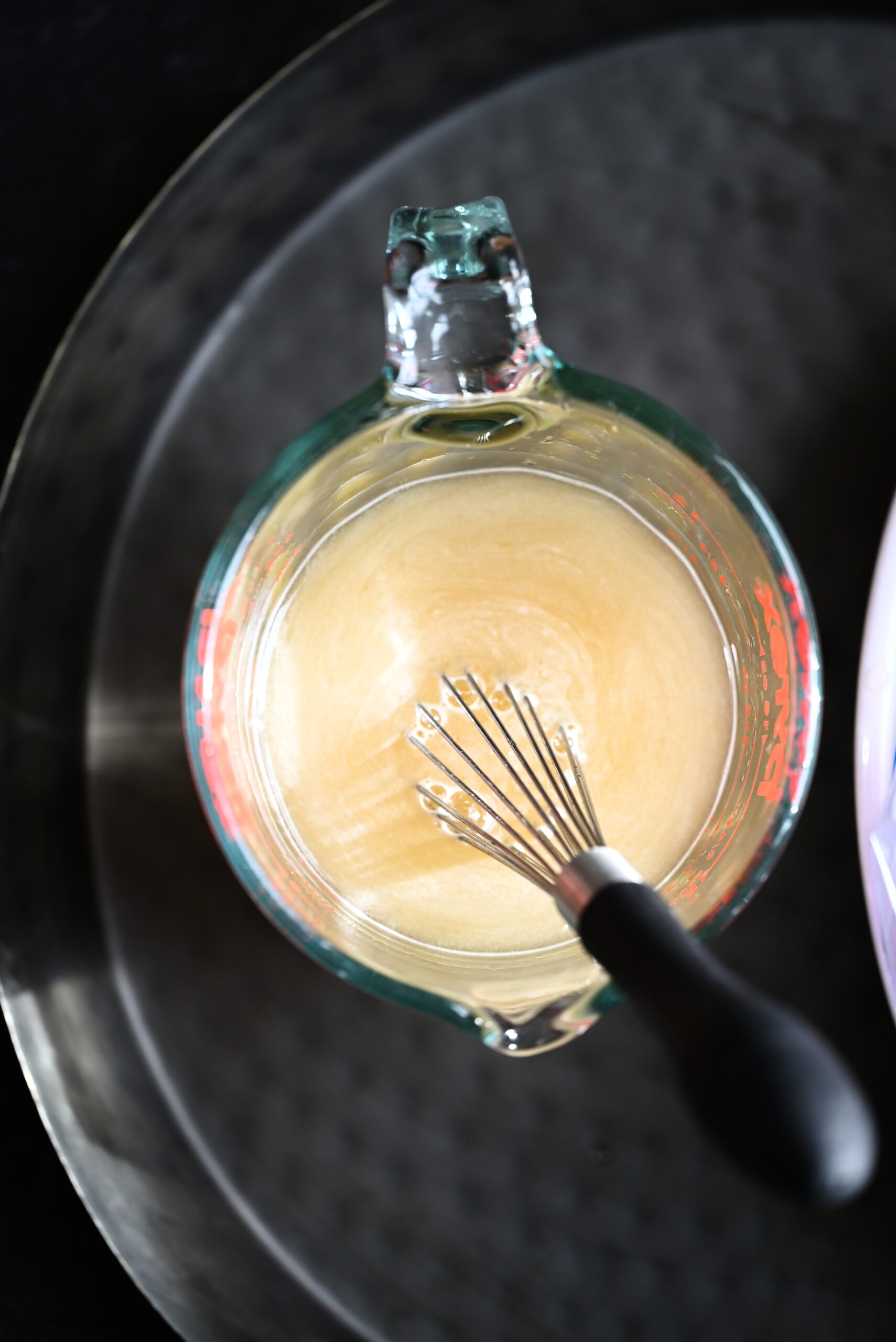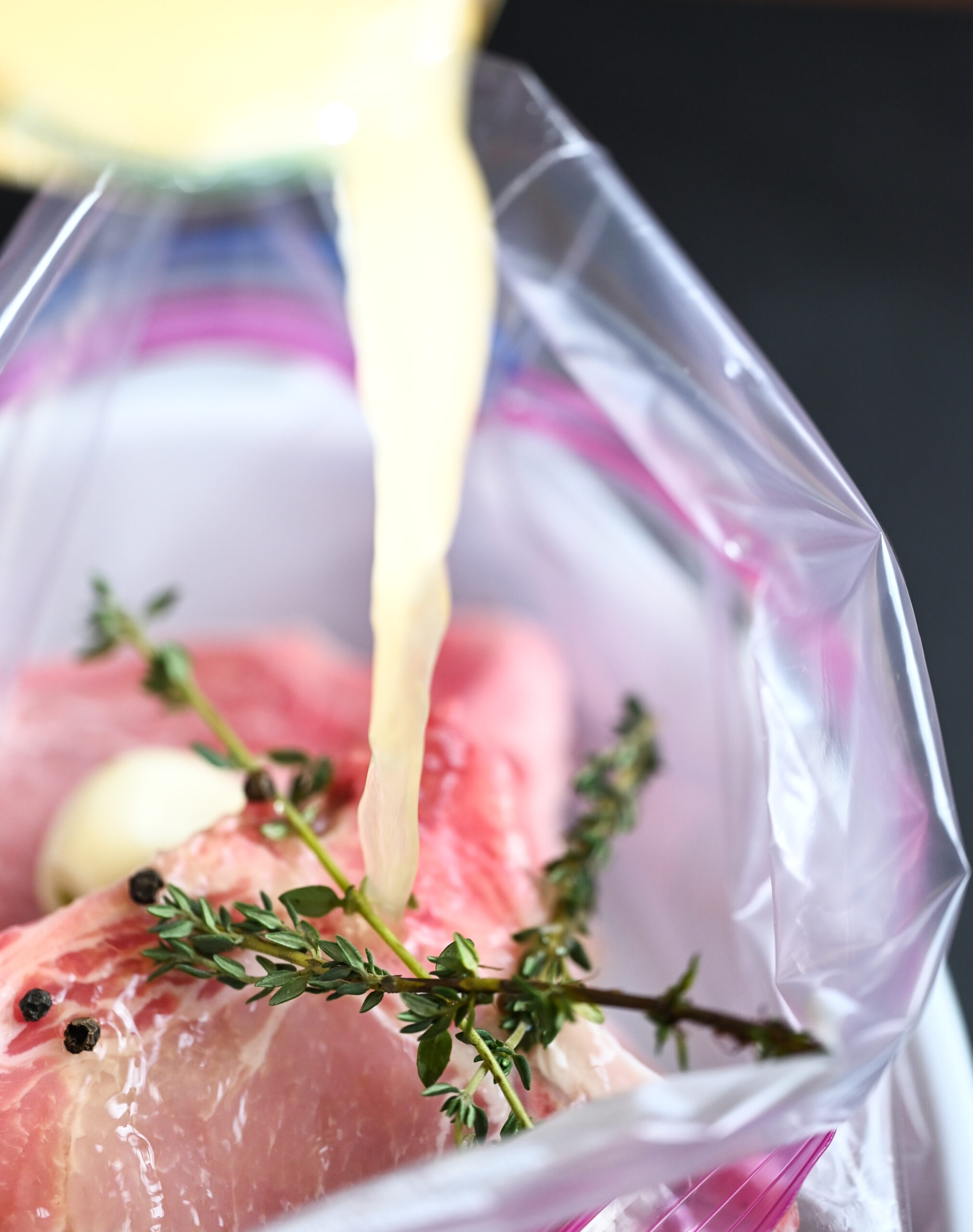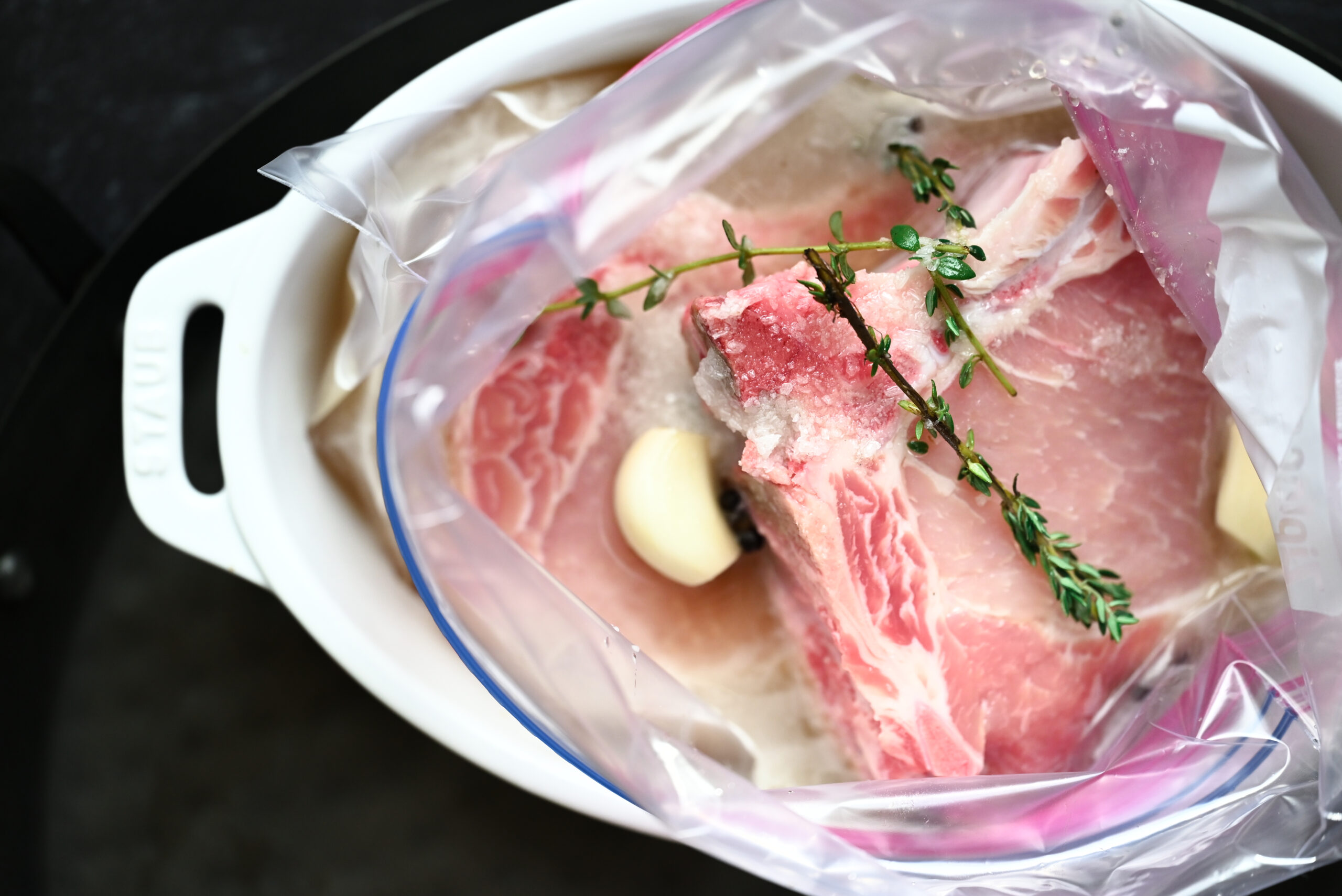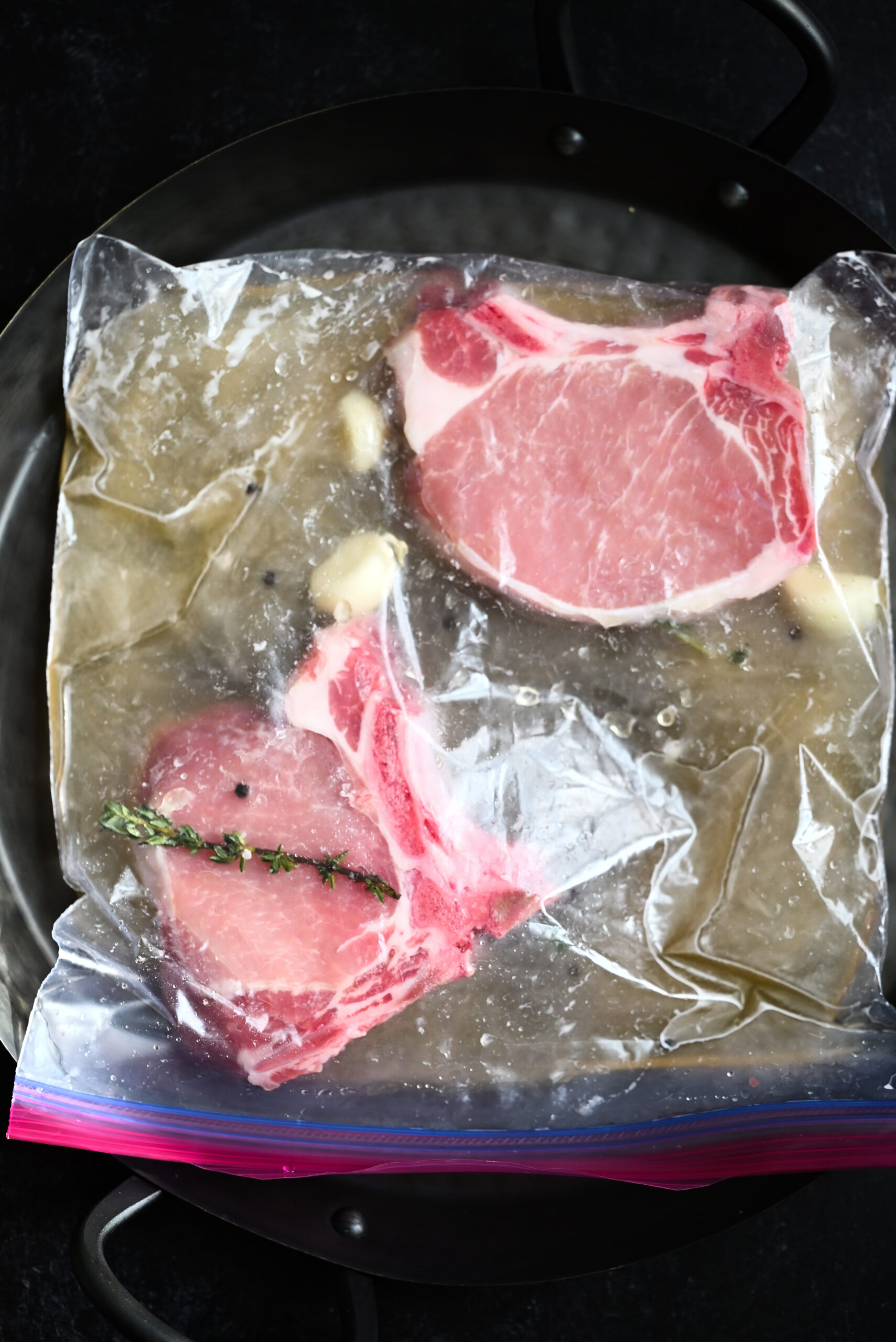 How long should I brine the pork chops?
At least 20 minutes but for as long as 14 hours.  Again, this is because you want delicious, tender, flavor-infused pork, not overly-salty meat!
Recipe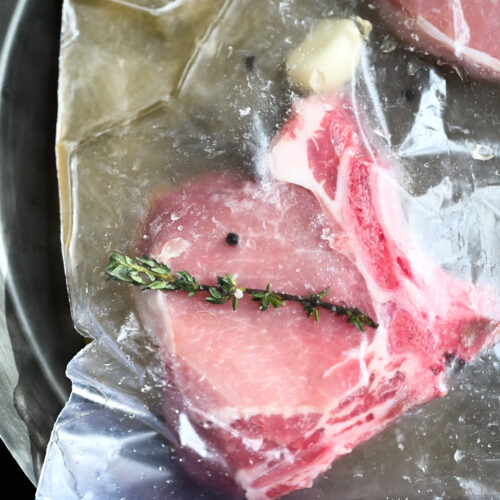 Quick Pork Chop Brine
Say goodbye to dry, flavorless, tough pork chops with this quick, easy, no-cook porch chop brine! It'll tenderize your meat giving you a tasty, perfect pork chop no matter the cut you choose!
Ingredients
2

pork chops

*about 1.5 lbs

2

cups

cold water

filtered

2

tbsp

apple cider vinegar

white also works

2

tbsp

brown sugar

light or dark, doesn't matter

1

tbsp

coarse sea salt

or kosher

3

garlic cloves

whole, peeled

10

peppercorns

you can sub for ½ tsp pepper

1-2

fresh thyme sprigs

you can sub for ½ tsp dry thyme
Instructions
Place your pork chops into a gallon-size bag or baking dish and set aside.

In a bowl, whisk together the cold water, apple cider vinegar, brown sugar, and kosher salt. Pour the mixture over the pork chops.

Add the peeled garlic, peppercorns, and fresh thyme. Seal the bag, or cover the baking dish, and brine on the counter for 20-25 minutes.

When you're ready to proceed with a recipe, take the pork chops out of the brine and proceed to cook the pork chops.
Notes
*Don't use table salt for this recipe, table salt has a metallic taste and it's just not a good fit for brining meats.  
*Also, keep in mind, that this brine infuses flavor into your pork, if you're going to proceed with a recipe that uses a lot of salt or a dry rub, consider skipping the brine.  However, if you're throwing the pork chops onto the grill right after a quick brine, this is an excellent option! 
*Nutrition facts are automatically calculated. 
Nutrition
Calories:
264
kcal
Carbohydrates:
14
g
Protein:
29
g
Fat:
9
g
Saturated Fat:
3
g
Polyunsaturated Fat:
1
g
Monounsaturated Fat:
4
g
Trans Fat:
0.1
g
Cholesterol:
90
mg
Sodium:
7046
mg
Potassium:
553
mg
Fiber:
0.2
g
Sugar:
12
g
Vitamin A:
9
IU
Vitamin C:
1
mg
Calcium:
35
mg
Iron:
1
mg
Tried this recipe?
mention @shutterandmint so I can share your creation!
More pork recipes to try